The NRS STAR Outlaw rafts are affordable whitewater-capable rafts that you can fully kit up with an NRS fishing frame for go-anywhere fishing adventures. If you've ever looked at the other side of the river and wished you could get there, you're in the right place.
To get us a closer look, NRS provided Man Makes Fire with a demo unit. This is what we learned when we took a STAR Outlaw Raft Fishing Package out for testing and review on the St. Joe River in Idaho:
NRS STAR Outlaw 140 Review
In and of itself, the NRS STAR Outlaw Raft is an incredible value for the money, plus you get a peace-of-mind 5-year warranty from NRS. Let's put it this way: As a raft, the STAR Outlaw is a far more capable boat than most people will ever need.
That said, if you're reading this review, you're likely most interested in the STAR Outlaw Raft for fishing more than for whitewater rafting, so we'll focus on the fishing first and get into whitewater and the benefits of a raft vs a drift boat later in this review.
First, the STAR Outlaw Raft is available in three fishing packages from the NRS STAR website, but you can choose any NRS raft and kit it out with NRS frame components. You can follow the standard 3-seat fishing setup or customize it to your own needs.
NRS offers five different STAR Outlaw raft sizes, ranging from 10-to-16-feet long, but only three options are available in the fishing package kit. They are all self-bailing, which means a bit of water gets into the bottom of the raft but it flows back out, too.
If you're planning to fish or float on smaller rivers, the 12′ Outlaw 120 Self-Bailing Raft might be the right size. For most people, the 13′ Outlaw 130 offers the best overall size. If you think multi-day overnight trips are in your future, 14′ rafts can carry more gear.
We tested a 14'1″ STAR Outlaw 140, which was big, stable and reasonably nimble.
Awesome Floor for Fishing
One of the most important features of the STAR Outlaw is its high-pressure self-bailing floor.
The floor is constructed a lot like an inflatable standup paddle board (SUP). Inflatable SUPs use thousands of drop stitches in between the top and bottom layers of fabric, which lets you increase the inside air pressure so you can stand on the board. In the case of the Outlaw Raft, you can stand on the floor, which is surprisingly stable.
This means that you don't need a front or rear casting platform, which is basically an HDPE board-type floor that suspends from the frame. If you choose a raft that doesn't have a high-pressure floor, like the NRS Otter, you'll want to use casting platforms when you kit it out for serious fly fishing.
In our testing, the Outlaw floor provides a stable base making it easy to stand on and cast while fishing. The NRS thigh bars, of course, give you something to lean against and greatly help with balance. (If you plan on fly fishing, you'll want thigh bars.)
Fantastic Frame
Read more: Engines raft
The NRS frame system is so good, it's widely used for many non-NRS rafts. For newbies, choosing your frame components can be a bit confusing at first, which is why the Outlaw Fishing Packages are so appealing — they come with the core components you need to get starting fishing. However, if you're willing to spend some time on the NRS web site checking out the raft components, you can figure out what you want to kit out your raft to meet your particular needs.
Your basic frame is always going to be a rectangle with a seat for the rower, like the NRS Longorn Raft Frame, but you probably want to start with the NRS Raft Fishing Frame, which features a front swivel seat for a fisher. At that point, you can add an NRS Frame Thigh Bar, and you're good to go for one primary fly fisher up front with a rower in the middle. A third fisher could ride in the back and sit on the rear tube, or you could attach an NRS Frame Y Thighbar for standing.
You could also add an NRS Frame Stern Seat Mount for a comfy seat.
It all seems a bit complicated at first, but if you understand that the NRS frame system is modular, you can add and remove components and cross bars to get the elements you want.
For instance, during our testing and review process at Man Makes Fire, we spent the first day fishing with the Outlaw with a full fishing frame setup. On our second day, two fishing buddies went home. I then removed the fishing thigh bars and seats, transforming the fishing raft setup into something more closely resembling a whitewater rafting setup. At that point, friends and family jumped aboard for a river float and swim trip. So cool.
Fishing Raft Versatility
What's great about the NRS STAR Outlaw Fishing Package is that you get everything you need to drift a river and fish. At the same time, you can easily remove seats and bars and use the core frame for whitewater rafting — assuming you have the experience — or more likely, simple float and swim trips.
It boils down to this: If all you want is a fly fishing raft that can handle rocks and abuse, you're good to go. But if you want something more, you can transform your fishing boat into a whitewater raft, too.
Where I live in Idaho, I can float rivers to fish or swim or hit whitewater on the Salmon River. So a raft delivers outstanding versatility.
Packability & Logistics
While many raft owners like to use a flat utility trailer to transport their rafts, you don't have to. You can roll up your raft and stow it in the back of a pickup. As for the frame, you can loosen sections to fold parts to reduce its size so that it will fit on top of your raft in the back of your pickup — or even safely lash it to a roof rack or pickup rack system.
What's great about having a trailer is that it lets you inflate your raft in your driveway so that when you get to the river you can get in and start fishing faster. But you don't have to have a trailer, which is a nice benefit if you don't have a lot of year-round storage space.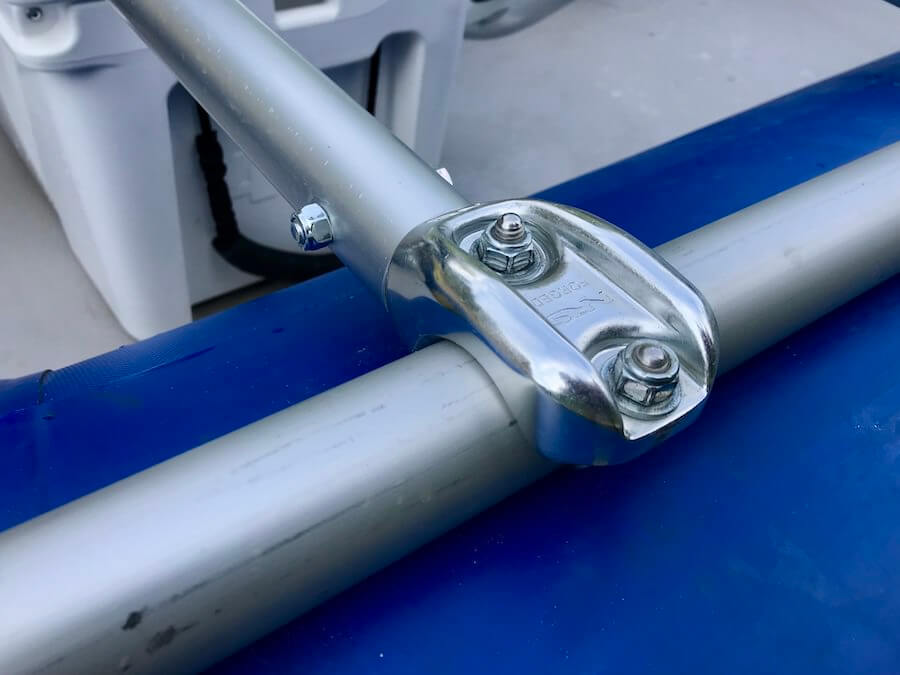 Because you don't need a boat ramp to launch a raft, you can put in at many more locations, giving you more float options. The same goes with takeout. All of this means that you're more likely to be able to deal with time and vehicle limitations when it comes to shuttle vehicles. If you don't have a pickup but you do have an SUV and a trailer, you could utilize your buddy's pickup. Or vice versa.
On-the-River Handling
The 14'1″ STAR Outlaw 140 is a pretty big raft. It's a little longer and wider than most people need, and the tubes have a slightly larger 22″ diameter than most people need. The Outlaw 130 is a little shorter, a little narrower, and a little lighter with 18″ tubes. For most people, the slightly smaller 18″ tubes also means it's easier to step over the sides to get in and out of the raft. (Note: The 14'2″ Outlaw 142 has 21″ tubes and at 6'7″ wide, is actually 8″ narrower than the Outlaw 140 — this means the 142 model is slightly smaller overall than the 140 even though the number, 142, is bigger.)
So how does the Outlaw handle on the water? For me, it handles well. It feels reasonably nimble, reasonably agile, and it's definitely stable as you hit some rough water. I'm not a pro, but I've oared through some class III and just a touch of class IV whitewater over the years. I know my whitewater limitations and only go with more experienced buddies. As for most fishing rivers, which rarely have rapids over class II, I wouldn't hesitate to row any STAR Outlaw raft.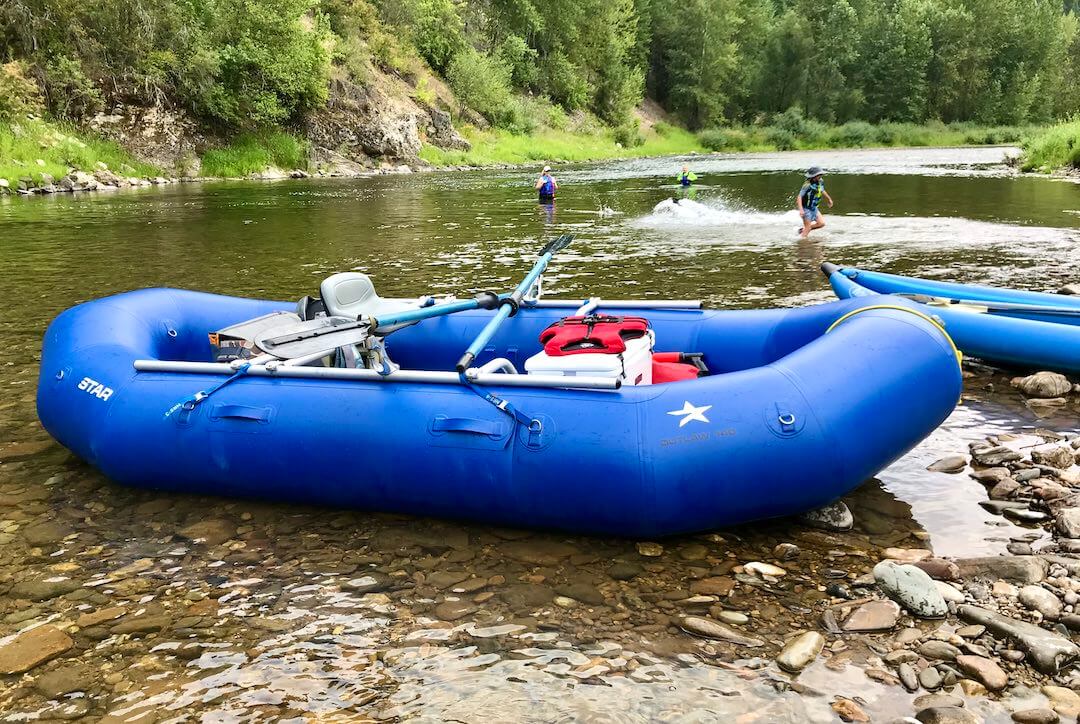 Read more: Small dog pool rafts
That said, we always recommend that you take the time to learn new, potentially dangerous skills, via buddies and teachers who can teach you how to navigate and remain safe. In addition, NRS posts a lot of safety-related articles.
Back to the handling. The frame and oars are all positioned to give you leverage so that you can easily turn and track on the river. You can easily adjust the oars and oarlock position to fit the person. I'm a bigger than average guy with long arms, so appreciate how fast and easy the customization is.
Can you oar upstream? Not hardly. Even smaller, lighter rafts are extremely difficult to row against the current.
For fly fishing, it's sometimes handy to row against the current in the middle of the river to allow your fly fisher get a cast out to a hole or seam before floating by. While you can sometimes briefly hold your position against some currents in a raft, you won't be able to do this as easily as you can in a drift boat.
Which brings up the question: Are drift boats better than rafts?
Drift Boats vs Rafts
Drift boats are highly specialized hard-sided row boats. They're shaped to slip through whitewater and can turn on a dime.
One way to think about drift boats vs rafts is to think of a drift boat as a speedy sports car and think of a raft as a pickup truck.
A drift boat will handle better in most river fishing conditions. They're easier to row and they're very stable. They're super nimble on the water, too.
Rafts are not as fast to row and aren't as nimble for navigating fishing streams. On the other hand, they're surprisingly durable. You can bang rocks and drag a raft over rocks and they can take lot of abuse. Seriously, NRS rafts are tough. If you want to fish boulder-strewn rivers, you might prefer a raft over a drift boat even though the drift boat will be more nimble.
Basically, for pure fly fishing ability, drift boats almost always win out. But that's not the full story.
Low Water, Rocks & Water Play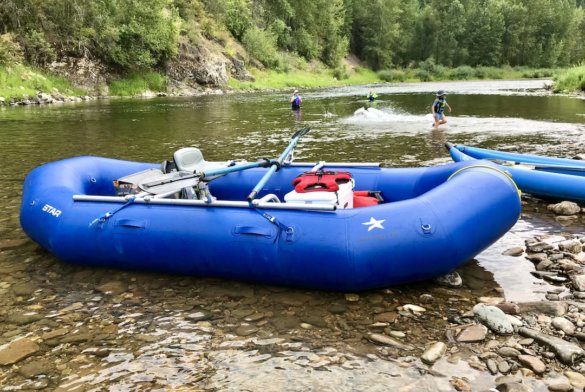 For low water situations where you might need to drag your boat — and just plain floating and swimming fun on the water — rafts are better. Why? You can put in a raft in steep and rocky places where you can't put in a drift boat. Same goes with take out.
For travel, you don't have to have a trailer — but you can use a trailer for a raft. You need a trailer for a drift boat.
Read more: Olympic national park white water rafting
For storage, you can pack up your raft and frame and store it all in much smaller spaces. A 16′ drift boat will always take up 16 feet of space.
If you want to play on the water, most people, including kids, will enjoy a raft more than a drift boat. Rafts are easy to swim out of and sit on the sides (in safe situations, of course).
So there you have it. For hardcore fly fishing on rivers with many boat ramps and established takeouts, drift boats will usually offer a more nimble on-the-water experience. For fishing and playing in a wider variety of situations, a raft is the way to go.
STAR Outlaw vs NRS Otter for Fishing
NRS acquired STAR Rafts in 2017, so when we talk about STAR now, we're talking about NRS. There are two key differences between the NRS Otter and the NRS STAR rafts.
First, NRS Otter rafts are made out of Pennel Orca, which you can essentially think of as a type of awesome synthetic rubber. STAR Outlaw boats are made with PVC. Of course, both types of fabric are made with several layers, and both are very strong.
Pennel Orca has, in general, better long-term durability and is a bit lighter than PVC and is easier to roll up. On the other hand, it costs a lot more.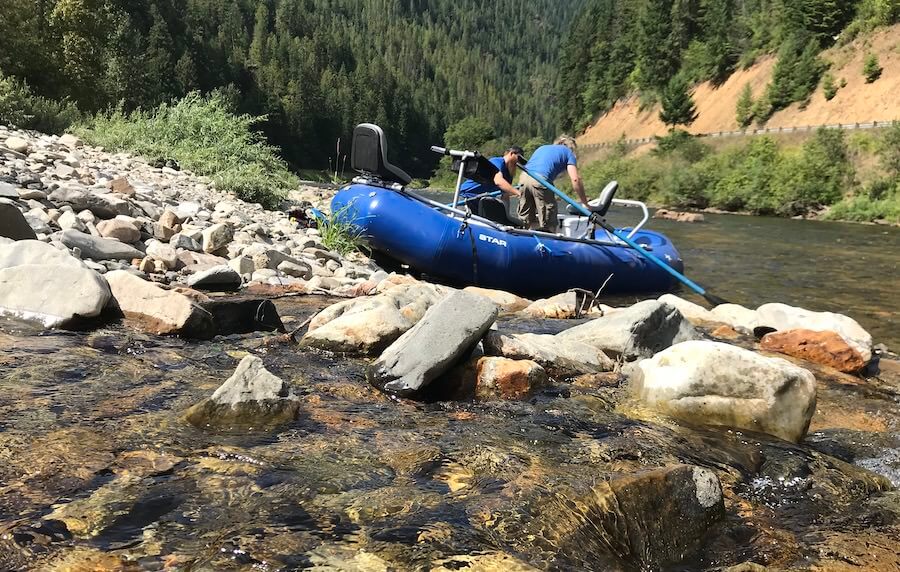 If you can afford it, the NRS Otter series are fantastic rafts. Is an Otter worth about $1,600 more than an Outlaw? Only if you have the budget. The NRS retail-use warranty on the Otter is 7 years while the warranty on the Outlaw is 5 years. Both rafts should easily last most fishers beyond a decade. And in the off chance that you puncture a raft, they're usually repairable. Plus, they hold their value if you end up wanting to sell them.
That said, remember, the Otter needs a casting platform attached to the frame for the best experience — but you can stand on the high-pressure floor of the Outlaw and have a great fishing experience.
But Wait, There's More: Thwarts & the 'Dodger'
One thing to note is that the STAR Outlaw Fishing Package doesn't come with thwarts. What's a thwart? It's the removable tube that spans the center of your raft. They're great for sitting on when you're whitewater rafting or floating a river for fun. For fishing, they're not really necessary. You can add thwarts to the Outlaw if it turns out that you want them.
NRS has created a new raft aimed directly at fishers: the NRS Otter Fishing Dodger XL Self-Bailing Raft. The Dodger XL features smaller tubes that diminish in size and shape, which gives you better access to the water for netting fish and for entry to and exit from the boat. The slightly lower profile is also better if you plan to fish in windy areas. It does not have any thwarts, nor does it have attachment points for thwarts. It's designed primarily for fishing purposes.
The Dodger XL is made from Pennel Orca and comes in blue, light gray, and dark gray. The light gray version looks fantastic in person. If you want one of the best possible fly fishing raft setups and budget isn't an issue, go with the sweet NRS Otter Fishing Dodger XL.
Meanwhile, back to the NRS STAR Outlaw Fishing Package.
The Verdict: Excellent Value
The NRS STAR Outlaw Fishing Package pairs a quality PVC-based whitewater-capable raft with NRS's excellent frame system to create an affordable and versatile fishing raft setup. For most fly fishers with navigable rivers, the STAR Outlaw will be a fantastic boat that will open up new ways and places for you and your family to fish. One of the things we appreciate most about float fishing is being able to fish hard-to-reach areas of a river that you just can't wade to. Plus, we're big fans of pulling off the river to spend more time wade fishing certain runs that get less fishing pressure. Plus, when you want to float a river or hit some whitewater, you can. Last of all, when you need to social distance, a raft can open up a whole new world for you. Very highly recommended.
Get the Gear:
NRS STAR Outlaw Fishing Package
NRS STAR Raft Series
NRS Otter Rafts
NRS Otter Fishing Dodger XL Self-Bailing Raft
NRS Frame Components
Oars
Life Jackets