If you're a proud row boat owner, you know how important it is to have the right accessories to enhance your rowing experience. From slings and straps to covers and safety vests, the right equipment can make all the difference. At East Coast Paddle Sports, we have a wide range of accessories available for your row boat. Let's explore some of our top picks!
Lightweight and Versatile Chesapeake Aluminum Slings
One of our most popular accessories is the Chesapeake Aluminum Slings. Designed for singles and doubles, these slings are lightweight and compact, making them perfect for daily storage or traveling. The heavy-duty Cordura sling is supported by internal frames, ensuring stability and durability. With a folding design, these slings can easily fit in the trunk of your car. Get a pair of Chesapeake Aluminum Slings for only $160.
Atlanta Aluminum Slings for Larger Boats
If you own a larger row boat or a 4's and 8's, the Atlanta Aluminum Slings are the perfect choice. These slings are built to withstand tough conditions with their anodized aluminum tubing, stainless fasteners, and strong support brackets. Despite their durability, the Atlanta Slings are lightweight and can fold flat to less than 4 inches. Owners of Guideboat 15, Guideboat 18, Adirondack Wherry, Annapolis Wherry, Appledore Pods, and Heritage Dories highly recommend these slings. Get a pair of Atlanta Aluminum Slings for $190.
Secure Your Boat with Super Soft Straps
When it comes to securing your row boat, our Super Soft Straps are unbeatable. These 1.5″ polypropylene straps can hold up to 1,200 lbs and feature a teeth-lined cam buckle that grips tighter as pressure is added. With these straps, you can rest assured that your boat will be safe and snug. Get a pair of Super Soft Straps for only $36.
Protect Your Oars with an Oar Bag
To keep your oars safe and clean, our Oar Bag is a must-have accessory. Made of nylon pack cloth with a quilted lining, this bag can accommodate two oars. It's perfect for travel and inside storage, with a full-length zipper and double carrying handle for easy fit and transport. Don't let your oars get damaged – get an Oar Bag for $215.
Guideboat 15 Cover for Ultimate Protection
If you own a Guideboat 15, our Guideboat 15 Cover is a must-have. Made of Cordura material, this cover is designed to protect the cockpit of your Guideboat when upright. With nylon straps to secure the cover to the boat, you can trust that your boat will be shielded from the elements. Get the Guideboat 15 Cover for $750.
Stylish and Functional Shell Covers
For owners of MAAS Aero, MAAS 24, and Alden Star shells, our Shell Covers are the perfect choice. Available in lined or unlined options, these Sunbrella covers provide unparalleled protection against UV rays. The quilted lining adds padding and durability, while custom rigger openings ensure a perfect fit. The heavy-duty coil zipper allows for easy on and off, and the reflective safety piping and red tail flags add extra visibility. Get the unlined cover for $539 or the lined cover for $589.
Stay Safe with an Inflatable Safety Vest
Safety should always be a priority when rowing. Check out rowsafeusa.org/pfds for a range of life vest options to keep you protected on the water.
Easy Transportation with Pneumatic Wheel – A – Way
When it comes to transporting your row boat, our Pneumatic Wheel – A – Way is a game-changer. With 16 x 4 fully pneumatic tires and a sturdy construction of anodized aluminum tubing, this wheel is built to handle even the largest shells. The polypropylene straps ensure secure transportation, and the "foot" holds the dolly upright for easy single-handed loading. Get the Pneumatic Wheel – A – Way for $345.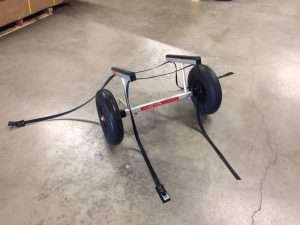 Find the Right Parts for Your Row Boat
In addition to our featured accessories, we also offer a wide range of miscellaneous parts, Latanzo parts, and MAAS replacement parts. Not sure what you need? Visit our website to explore our selection and find the right parts for your row boat.
Not sure where to start? Visit East Coast Paddle Sports to explore our full range of row boat accessories and elevate your rowing experience!
Email Us or Call Us at 518-745-7699 (ROWW) for any inquiries or to place an order.