If you are visiting Arizona and have no idea where to go, the city of Page, AZ is a great place to start. It is a small town located in the northern part of Arizona and is close to the beautiful Lake Powell. The famous Lake Powell was named after John Wesley Powell, an American explorer, ethnologist, and geologist.
Lake Powell is one of the city's most popular tourist spots in the Colorado River, where you can enjoy several activities for the whole family. It is a man-made water reservoir that was a product of the flooding of Glen Canyon that was caused by the Glen Canyon Dam. This is also the reason why Glen Canyon National Recreation Area was created.
Rafting trips are the most common activities when you visit this city. Some of the exciting rafting trips to try are Glen Canyons float trips, Colorado River rafting, and the famous Horseshoe Bend rafting trip. Any of these rafting trips will surely give you the best wilderness river adventures you"ll ever experience.
If you are not into rafting trips, you can do other activities like hiking. You even get the chance to see real-life great blue herons and bighorn sheep. A tour guide will assist you on the right way to follow during the hike and will even tell stories about the place like the mining culture, the ancestors' way of life, the history of the great Glen Canyon Damn, and the Petroglyph Beach.
Exploring the Colorado River
This magnificent body of water is 1, 450 mile long and surrounds some parts of the seven states in the U.S. and two other Mexican states. It is famous for its great canyons and magnificent rapids. By exploring the Colorado River alone, you will get to experience several breathtaking canyons like the famous Grand Canyon, Marble Canyon, and Glen Canyon.
Read more: Ace resort white water rafting
Aside from the stunning sights at the Colorado River, your guide will show the amazing and ancient houses of canyon dwellers from thousands of years ago. One day is not enough to explore everything you need to see around the Colorado River, so be sure to take a few more days off from work to maximize your vacation.
Other astonishing places that you can enjoy at Page, AZ are the following:
Horseshoe Bend
Glen Canyon Recreation Area
Grand Canyon National Park
Petroglyph Beach
Lees Ferry
Vermillion Cliffs
Activities to Try:
Sightseeing at Glen Canyon Dam
Learning the Glen Canyon Dam history
Glen Canyon Float Trips
Aerial sightseeing
Half-day Horseshoe Bend rafting experience
A cool dip at the Petroglyph Beach
Camping and Hiking
Wilderness river adventure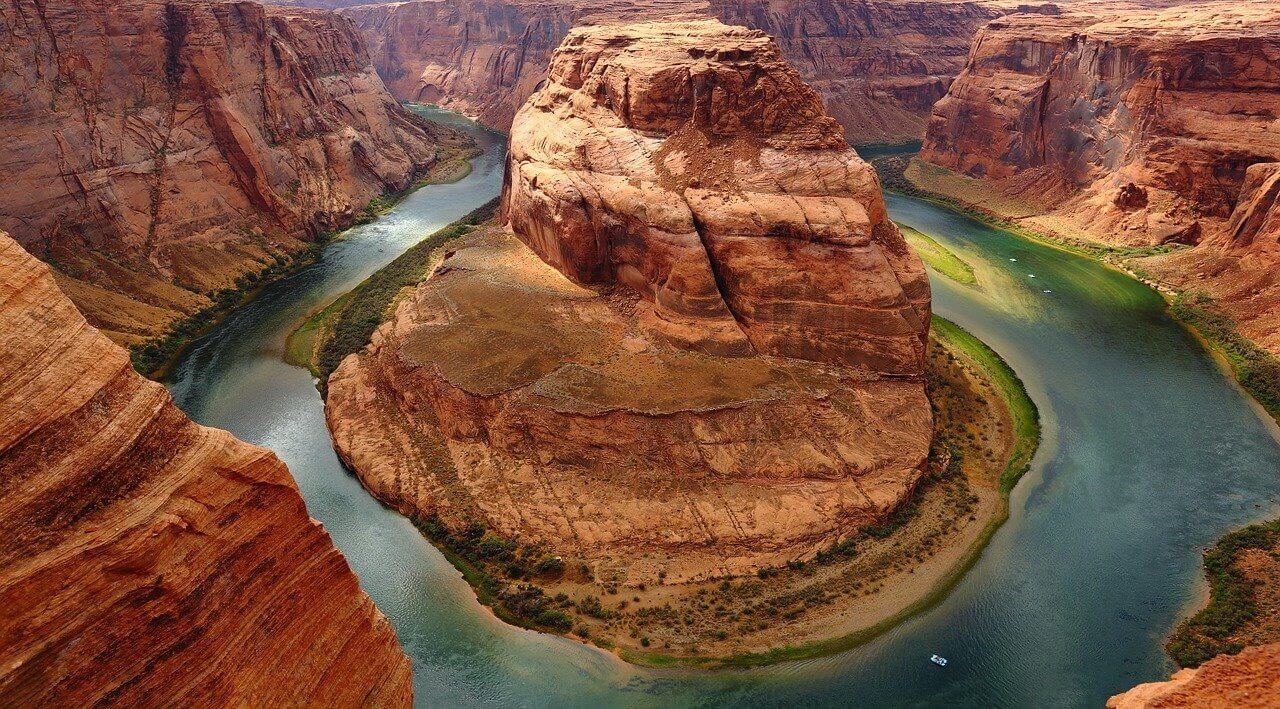 Horseshoe Bend Rafting Trip
Whatever it takes, you need to experience the Horseshoe Bend rafting, whether it is a whole day trip or a half-day rafting trip. Horseshoe Bend is a sight on its own. Its almost perfect circular canyon lets people admire its clear blue-green water.
Horseshoe Bend can be crowded with lots of tourists but if you want to avoid large crowds, you can always avail yourself of their airplane tour. Nothing beats the view of Horseshoe Bend and Lake Powell from the top, however, your trip will not be complete without seeing a complete Horseshoe Bend rafting trip.
Half-day is enough for a Horseshoe Bend rafting experience. There are several resorts and other travel and tour companies that offer tours for your rafting trips. You only need to allot at least half of your day to Horseshoe Bend rafting. So what can you expect when you avail one of these half-day rafting trip?
The usual rafting trip normally starts with a two-mile tunnel drive. Within this tunnel drive, you get to experience dinosaur tracks before boarding your river raft. Your wilderness river adventures start here as you enjoy the sights of Petroglyph Beach and the captivating artifacts.
Read more: Whitewater rafting las vegas
After your wilderness river adventures from your river craft, you will then transfer to a motor coach ride. By this time, you are already at Lees Ferry going back to Page, AZ. During your motor coach ride, along the way, you will pass by Lees Ferry, sandstone walls, and other historic landmarks and structures.
After your half-day Horseshoe Bend adventure, be sure to maximize your trip while you are still in Page, AZ.
River Raft Safety Tips
If it is your first time trying river rafting, it is best to know the safety guidelines before doing it. Here are some safety tips before you go on your river raft adventure:
Always wear a life jacket even if you know how to swim.
Learn how to hold the paddle the right way.
Always listen and follow your guide.
Be attentive during the safety talk and take note of the commands.
Do not panic.
Learn the different swimming techniques.
Wear proper attire.
Horseshoe Bend Rafting Policy
Before you avail of your wilderness river adventures at Horseshoe Bend, be sure to take note of the policies that come with it. This is to avoid any unnecessary hassles during your raft trip.
Some of the things you need to check out are the payment, cancellations, pricing or rates, minimum passenger, pet policy, trip schedule, and other pertinent information that you need for the trip.
Once you have booked your half-day Horseshoe Bend rafting trip, be sure to be there to avoid paying any cancellation fee, if there's any. The Canyon National Recreation has the right not to fully refund for no-shows and late cancellations.
Read more: White water rafting colorado prices
Under the guidelines of the National Park Service, there may be additional guidelines or policies due to Covid. So best to check first to see if there are any updates or changes that you need to know.
Important Reminders
Call river headquarters first and check their schedule before visiting.
Only backpacks or small bags are allowed during your rafting trips.
Weapons of any kind are strictly prohibited, even cigarette lighters and utility tools.
Do not forget to bring your camera to capture the beauty of the place
Wear proper attire
Bring sunblock and extra set of clothing
Best to bring food, water, and other drinks
Always treat people with respect
Follow health and safety guidelines
Follow the check-in and check-out time, rates, pet policy, and age restrictions
Always check in with your team or companion before and after raft trips
Due to Covid, follow safety protocols and bring your own sanitary kits and mask
Observe proper physical distancing
Final Thoughts
Horseshoe Bend in Page, AZ is truly a place worth visiting. The good thing too is that a half-day rafting trip is enough to experience it. This means you still have a lot of time to explore other interesting sights nearby. You still have ample time to check out the Glen Canyon Dam and try the Glen Canyon float trips.
Traverse Grand Canyon from Lees Ferry through a raft trip. In, addition to this, be sure to also drop by at the Canyon National Recreation Area or river headquarters for updates or other information like rates, check-in times, Grand Canyon, and Glen Canyon tours, accommodations, and other activities you can experience in the Colorado River.
If you are planning to spend a couple of days in the area, book ahead of time to find the best hotel and accommodation during your trip. Just be mindful of the check-in times for a smoother and hassle-free trip.
Now, go and treat yourself and the whole family to a one-of-a-kind wilderness river adventures you will all never forget. All thanks to National Park Service for taking good care of these special places so that people can enjoy and experience the American heritage. Don't forget to bring your cameras so you can capture and treasure your fun memories.