Are you ready to transform your Seadoo Spark into a striking, head-turning watercraft? Look no further than the RACE Graphic Kit from RIVOT Racing. With its vibrant colors, durable materials, and easy installation process, this kit is the perfect way to personalize your jet ski and make it uniquely yours.
Unleash Your Style with the RACE Graphic Kit
The RACE Graphic Kit is designed specifically for the Seadoo Spark, and it comes in a stunning combination of Pink, Turquoise Blue, and Black. These colors will make your watercraft pop, whether you're enjoying a leisurely ride on a calm lake or riding the waves at high speed.
Quality Materials for Long-Lasting Protection
When it comes to protection, the RACE Graphic Kit has you covered. Made from ultra-resistant vinyl, this kit ensures optimal protection for your Seadoo Spark's case. The reinforced microbead glue and 100µ thick special protection guarantee its durability, even under harsh conditions. Plus, the high-definition printing retains the intense colors for a long time, even with strong exposure to UV rays.
Easy Installation for Everyone
Installing the RACE Graphic Kit is a breeze, even if you're not a DIY expert. The vinyl is designed to adapt to the contours of your jet ski, making the installation process easier and more seamless. To get started, you'll need a few tools like a cutter or chisel, a spray of degreaser, a hairdryer or heat gun (be cautious with the temperature), a raclette, and a soft, clean cloth. Rest assured, the kit comes with clear instructions to guide you through the process.
Step-by-Step Installation Guide
To prepare the surface for installation, clean your fairings thoroughly using a degreaser. It's crucial to remove all traces of glue and fatty substances, even from new plastics, to ensure proper adhesion. Avoid using window cleaners or acetone, as they may not be effective or could damage the surface.
Once the supports are clean, position the stickers to mark their locations. You can affix and reposition the stickers until you find the perfect spot. To activate the bonding process, firmly press the sticker starting from the center, which will pierce the micro balls and initiate polymerization. Remove any air bubbles by applying strong pressure with a clean cloth or a squeegee.
For parts with significant relief, applying slight heat using a hairdryer will help the vinyl conform and adhere more easily. Once the entire kit is installed, give it a final touch by applying gentle heat and firm pressure to ensure a secure bond. Let the decoration kit rest for 2-3 days to allow the glue to polymerize and bond properly to its new support.
Get Ready to Ride in Style
With the RACE Graphic Kit for Seadoo Spark, you can transform your jet ski into a true reflection of your personality. Stand out on the water with the vibrant colors and durable protection this kit provides. Don't wait any longer – visit East Coast Paddle Sports to get your RACE Graphic Kit and make your Seadoo Spark shine like never before!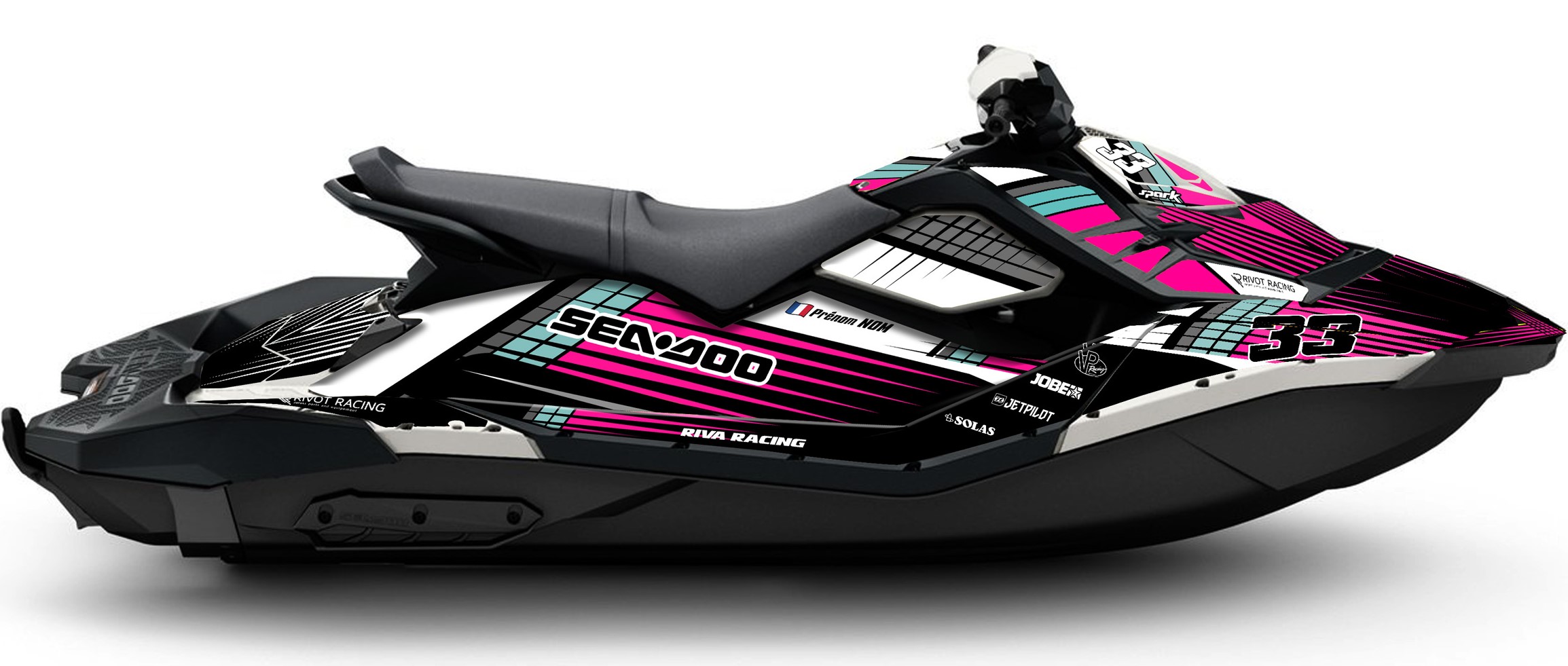 Remember, the kit is a perfect combination of style and functionality, ensuring your Seadoo Spark looks great while offering long-lasting protection. So, get ready to hit the water and turn heads with your personalized and unique jet ski!