This is a great all-around recreational solo canoe. It maneuvers on a dime, weighs just over 30 lbs, and can take a beating. If you can still find one I would recommend picking it up. Since they stopped making Royalex and other options in the Old Town line are about 20 lbs heavier.
I picked up an Old Town Pack on a scratch and dent deal at my local outfitter for just over $350 about five years ago. I had been planning on adding this to my fleet due to an aging back and wanting a really light option for quick trips to the local lakes and river.
When I heard that they were going to stop making Royalex, the durable composite of vinyl and plastic that allows these crafts to be so light, I started searching for a deal.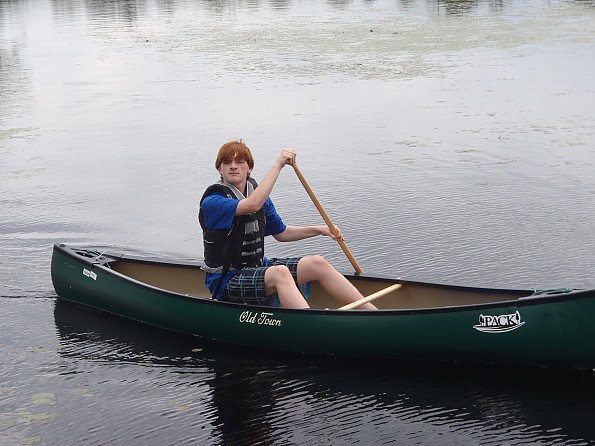 (This is my son at 16 paddling the Pack. It's tough to take pictures of yourself in a solo canoe!)
If you find one online or in a store used, I would strongly recommend picking it up. They won't make them this light again until some new technology comes along. The other Old Town solo options weigh around 50-60 lbs. For this aging guy, that is too heavy for a solo canoe!
Summary:
The Old Town Pack is about the lightest and easiest handling solo canoe that I have found. The Royalex hull scratches easily, but is almost bulletproof (the scars make it look better to me!). It can turn on a dime, but takes an experienced paddler to keep it on course as it is so short it doesn't track well.
There are many complaints on the net about stability, but I found it to have decent primary and good secondary stability. I am completely comfortable running easy fishing rivers (Class I and II mostly) and lakes even on windy days.
The ease of getting this boat on the car and to the water has increased the number of trips I take and maximized my enjoyment of this little gem of the canoe world. I own two others, and have had several more, and unless I am taking a second person, this is the go-to canoe for me.(Here is the Pack getting its annual "sunscreen" application. Next to my OT Camper for size comparison.)
Specs:
Weight: 33 lbs Length: 12 ft Width: 32 in Depth: 11.5 in
Max Load: 550-600 lbs
Design: Slight rocker, Slight tumblehome, Flat bottom, Minimial keel
Original List Price: $1,099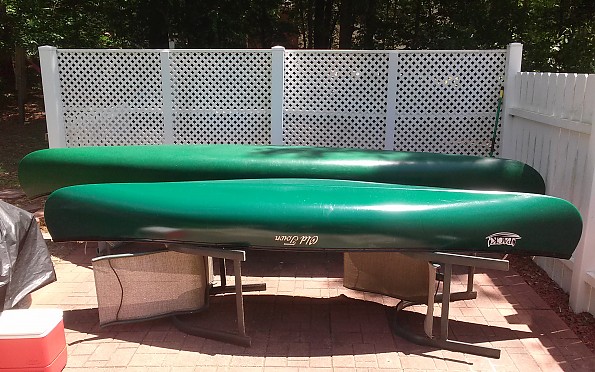 Usage/Testing:
I have used the Old Town Pack on numerous occasions for over five years. This includes:
River runs of 2-8 hours (primarily Class I and II)
Large recreational lakes — 2-8 hour fishing and bird watching trips
Small coastal lakes both open and with heavy vegetation
Swamps and slow moving streams with heavy vegetation
Handling & Tracking:
The Pack is only 12 ft long, and therefore has big pros and cons due to this size. It can turn in the tightest of streams and work its way around trees through swamps that many other canoes would have trouble maneuvering into. In the photo above, I paddled off the main channel you can see into the swamp forest with little difficultly, but couldn't do the same with my longer boat a couple of weekends later.
On the other hand, the short length means it doesn't track very well. The latter can be easily addressed if you know your paddle strokes. I use what I would call a J stroke with a slight C at the beginning every three or four strokes to keep on track.
However, this sacrifices speed if you are into that, as some energy and momentum is used in the correction stroke. If I lean it a bit, it runs straight and true. The tracking was what cost it a point in the rating, but a longer canoe couldn't do some of the things I ask of the Pack.
From what I have heard, and tried out myself briefly, it does really well with a double-bladed paddle. I don't use that due to the rotation being different on a bad shoulder (I can paddle a single blade all day on one side and avoid the high rotation in that shoulder) and really liking the art and tradition of using a single wooden paddle.
Stability:
The Pack has a reputation for being unstable, but I really have not found that to be the case for me. Primary stability (how much it rocks as you get in and out) is average. I have seen better and worse but never flipped this one. I don't stand up to fish but have stood a few times in the Pack and it is a bit unsteady.
Secondary stability (how it behaves when tilted) is pretty good. I often run it at a tilt when I want some speed so I don't have to use correction strokes and have never flipped it or felt unsteady. The seat is a little high if you are of my size (6 ft and 185 lbs) so I bought some extenders and lowered it a couple of inches (see photo below). That definitely improved the stability while sitting and when kneeling it is very stable in my opinion.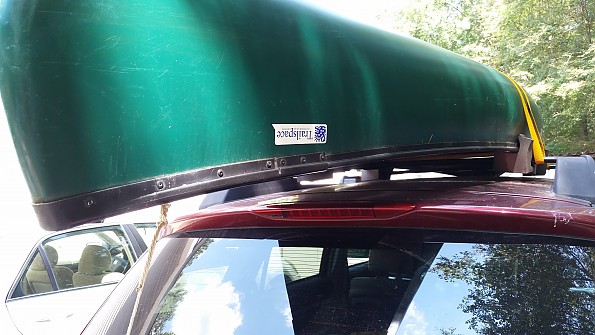 Durability & Construction:
The hull is made out of Royalex, which is a discontinued composite plastic and vinyl. The hull scratches very easily (photo below) but has a lot of flexibility and I have never had any damage that affects the integrity of the boat. It has some "scars" but they don't bother me. The flexibility of the Royalex allows for the low weight of the boat, but also allows it to "oil can" on choppy water. I actually like the feel of this and it doesn't seem to affect its handling, but if that is a negative to some be aware.
Construction is typically Old Town. The polyethylene deck and gunwales are solid and no issues have appeared over the half decade of use. The carry handles are comfortable when you need to use them, but that is rare as this is such a light vessel I just grab it by the gunwale and head out.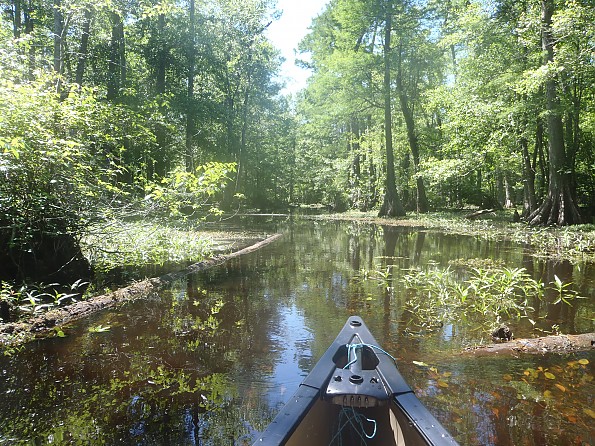 The ash seat frame and thwart are solid and secured to the canoe well. I lowered the seat (see above stability) easily and it still sits tight. The old cane seats were a little more comfortable than the web ones, but these seem to hold up better over time.
Weight and Portaging:
This is where the Pack earns its name and reputation. The 33 lbs is a dream to get on and off a car, which is very important to me due to some lower back issues. I can carry it in one hand and usually rest it on my shoulder and have hauled it up to a half mile to get into hidden fishing lakes and other access points. If you want to go traditional and haul it overhead, there will be some adjustments needed as the thwart is not centrally located. I just don't find that necessary as it is so easy to throw on a shoulder and carry your paddle, and other gear in the other hand.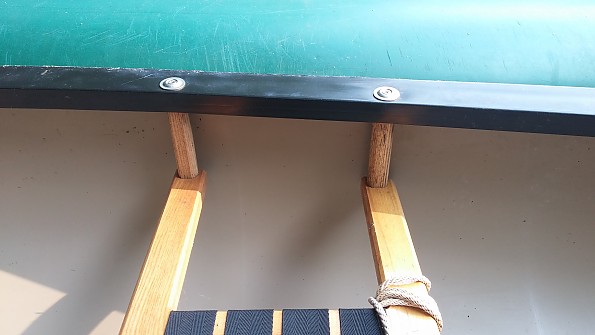 It's so easy to load and carry this canoe, that I find myself throwing it on the car on a whim for a couple of hours of paddling our local river much more frequently than I did with our heavier tandem canoe (Old Town Camper) and other prior vessels (4 or 5 over the years).
Here is a quick video showing the ease of loading and unloading (I am not a video guy so please excuse the last couple of seconds!):
Capacity:
The Pack is rated to handle 550-600 pounds. I think that is a little high. I use it for day long trips down the river and fishing, and have paddled it backwards with my wife. It handled well enough with two, plus a day's worth of gear and cooler etc, but you have to rig up seat cushions to make it comfortable and it rode a little low so I wouldn't necessarily try that in rougher water.
I reviewed the Old Town Pack even though it is discontinued in case someone out there gets an opportunity to buy one used. I would not hesitate to buy this again, and if I see one will probably grab a second one just in case. Hopefully, the weights of the newer solo canoes will come down as new technology arises, but until then my back, along with the rest of me, just loves our little Pack.