Size and Weight
The Old Town Sportsman 120 measures up at 12' (3.7m), which is pretty standard size for a quality solo fishing kayak. This longer length provides a bit of natural tracking ability and plentiful gear storage without detracting too much from your ability to transport it from your car to the water.
Weighing in at 82 lbs (37.2 kg), the Sportsman 120 is a pretty heavy boat. Even for a fully featured fishing kayak, this boat is on the heftier side, which means it will take some muscle to lift up onto the top of a vehicle. For reference, Perception Pescador 12.0, which is a kayak of the exact same length, is substantially lighter at just 64 lbs (29 kg).
Capacity
One of the more impressive features of the Sportsman 120 is its capacity. With the ability to carry a maximum of 500 lbs (226.8 kg), this boat is more than strong enough to accommodate larger paddlers for a day on the water.
Read more: Canoe is to boat as
Note, however, that Old Town includes the weight of the boat when calculating total capacity. So the usable capacity is actually 500 – 82 = 418 lbs (189.6 kg), which is still impressive.
In fact, the Sportsman 120 can carry more weight than some other similar boats, such as the Native Manta Ray Angler 12 XT, which has a load capacity of 325 lbs (147.4 kg).
This makes it an ideal choice for longer fishing trips and even overnight angling adventures. Since this kayak also has a forward dry hatch and a truly massive rear tank well, it offers more than enough space to accommodate gear for a short camping trip.
Features
When it comes to features, this is one well-outfitted kayak.
Read more: Aqua bound edge canoe paddle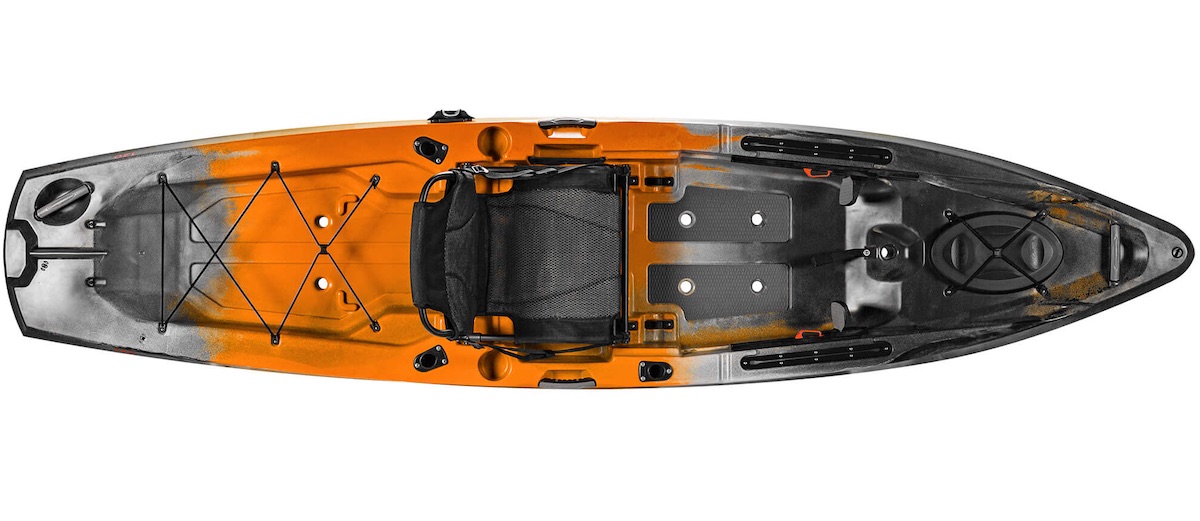 The Sportsman 120 boasts a premium seating system that's made from durable and UV-resistant dual-layer Textilene fabric. This seat also has a layer of 3D mesh to improve comfort and breathability.
Old Town built this kayak with a universal transducer mounting system, which allows you to quickly install your fish finder without the need to drill any holes. It also has two track systems on the bow so you can easily attach accessories to improve your fishing experience.
For anglers, the Sportsman 120 doesn't disappoint. It has one forward-facing and two rear-facing rod holders that are flush-mounted for durability. Moreover, this boat has two cup holders for quickly storing small bits of fishing gear. It even comes with a custom tackle box that stashes under the seat to free up deck space.
Read more: How to get into a canoe
To help you stay organized, the Sportsman 120 comes with a side-mounted paddle clip as well as a dedicated horizontal rod storage system. There's also under-seat storage and a rear tank well to house all of your fishing gear.
Performance
Old Town crafted this boat with their pontoon-style DoubleU hull, which offers excellent primary stability and gliding capabilities. Thanks to its rounded hull and built-in EVA foam non-slip deck pads, the Sportsman 120 provides an exceptionally stable platform for casting lines in flat water conditions.
However, like any rounded hull kayak, it's a bit tippy and slow, especially on choppy seas, making it best for use on calm lakes and flat rivers.
Plus, due to the Sportsman 120's longer length, it's also inherently decent at tracking during longer paddles. So, while this kayak has some drawbacks in performance in not-so-friendly conditions, it's perfect for calm days on the water.