It's time for another in-depth, unbiased gear review. For this round I decided to go to my local Walmart and get the cheapest kayak set-up I could find for a review. I ended up walking out of there with a paddle, a life jacket, a pair of booties, and the Decathlon Itiwit inflatable kayak. This Walmart kayak is billboarded as a 2-3 person kayak but I fared just fine on my own.
All of this came to a grand total of just under $350 (USD). In my mind, that's incredibly cheap for a full kayaking package from Walmart. But you may be wondering: is it cheap because Ken's an expert bargain-shopper, or is it cheap because it's just a cheaply made Walmart kayak?
Now, obviously some concessions are expected with a craft like this, but if it's on the shelf at a reputable store, and it makes for a notable line on the month's credit card bill, then it should at least hold its own out there on the water. Here's what I can tell you from my experience with the Itiwit kayak.
About the Decathlon Itiwit Inflatable Kayak
Price: $260 USD (at Walmart)
Length: 12' 6"
Width: 43"
Weight: 37 LBS (17 KG)
Capacity: 507 LBS (230 KG)
Best Use: Flat, Protected Water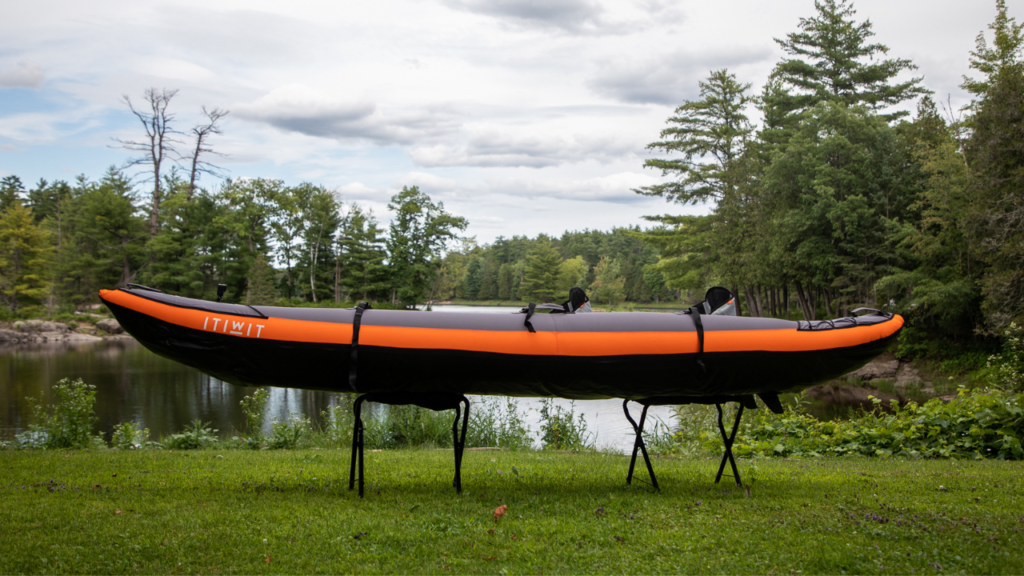 The Itiwit kayak package comes with a backpack, a pump, and a repair kit, but it doesn't include a paddle. Underneath there are 3 fins for tracking. On top it has stern bungees for a bit of storage, and carry handles on both ends. The three compartments only pump up to 1.5 PSI. This is the lowest air pressure I've ever heard of for an inflatable kayak. So right out of the gates, expect a soft boat.
Before we get into the full-blown kayak review, let's take a second to go through the other bits of gear that I picked up for this excursion.
Are Walmart water shoes worth it?
The ones I got at Walmart were a mere $10 (CAD), or around $8 (USD). They are totally worth it! The tread kept me stable on the slippery rocks (this is why flip-flops are a big no-no), they were comfortable, and you can't beat that price. Now, I don't know if these will last as long as the higher-end options, but even if they just make it through the season, that's pretty darn good in my book!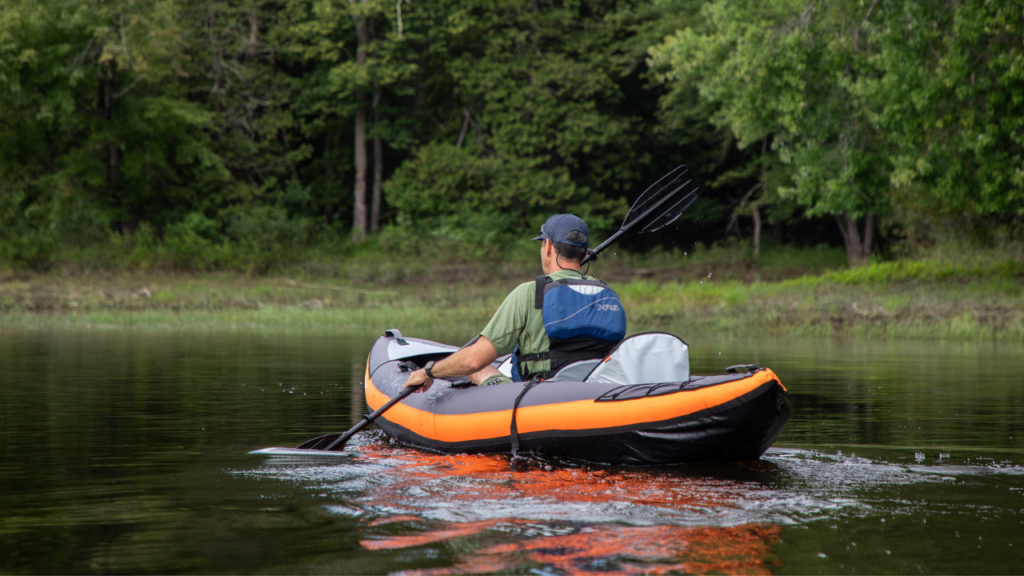 Walmart life jacket vs NRS Chinook PFD
Read more: If you're driving down the road in a canoe
The best kind is a paddling-specific PFD. For instance, my go-to is the NRS Chinook. It's technically designed for kayak fishing, but I find it perfect for all kinds of recreational paddling. The foam is high in the back, so it doesn't get in the way off the seat, and there are three side adjustment straps, which dial in the fit so that I can paddle without feeling hindered.
My $20 Walmart life jacket, on the other hand, had a generic fit/design, and only one adjustment point. The problem there is that in order to keep the vest from slipping off in the water, it has to compensate by adding a crotch strap. For this to actually work, it has to be fairly snug… Not a fan! But with that said, if you're on a tight budget, go with anything that does the trick (which the cheap ones still do).
Walmart kayak paddle good quality?
My experience with the $50 Walmart paddle once again reinforced the fact that cheap paddles will make you pay a different kind of price. This one has a groove down the middle that was supposed to add some structural integrity, but all it really seemed to do was act as a catch for the water. This made me inadvertently spray myself and soak the kayak everytime I lifted one of the blades above the surface. Plus, even with that groove built in, the paddle was so flexible that it zapped the power out of each stroke.
The one thing I did like was the foam hand pads. But still, there are much better paddles on the market, and there are even better $50 paddles out there. If you're pinching pennies or just trying to get everything in one place then I can see how this makes sense. It will get you going, but will also leave you wanting more.
Final safety note before the boat:
Time for another quick reminder about the free, online paddling safety course brought to you by the American Canoe Association (ACA) and the U.S. Coast Guard. You can do it on you own time and your future self might just thank you for doing so. Paddling is generally safe and super fun, but every once in a while, things can go wrong really quickly. Make sure you learn from the best what to do in unexpected situations.
Is the Walmart Itiwit kayak easy to inflate?
The plus side of the Decathlon Itiwit kayak only inflating to 1.5 PSI is that it doesn't require much pumping. Now, I'm always a fan of an electric pump if I'm repeatedly using any inflatable kayak, but you could totally get away with the manual approach for this one. I even just used my mouth to inflate the seats, which come pre-attached so that only inflation is required during the set up.
Also, at 37-pounds, the Itiwit kayak gets high marks for portability in terms of the norm for tandem kayaks. The only downside is that the carry-bag doesn't come with padded straps. I mean, they have to save costs in some areas so this isn't the end of the world, just be aware of this if you're planning a decent-length hike before launching.
Does the Itiwit kayak have good stability?
With width comes stability. And at 43-inches-wide, the Decathon Itiwit has bomber stability! Paddling it as a single, there was nothing I could do to tip this boat over. With each additional person, this will change slightly, but I could still tell that the Itiwit would feel secure whether there's 1, 2, or 3 people inside.
Is the Decathlon Itiwit a fast kayak?
Because the Itiwit is so soft and stable, it naturally gives up speed – especially by touring kayak standards (but that's not who this is for). For recreational kayakers who just want to get out on the water with some friends, in something that's fun and comfortable, this thing will be plenty fast for you. Yes, the speed tops out quickly, and no, it's never going to win awards for its performance, but when calibrated for the cost, I was pleased with how the Itiwit moved. And keep in mind, I was paddling by myself. With another person paddling in unison, you could probably cover some decent distance.
Another thing that caught my attention was how maneuverable the Itiwit was. For a 12-foot, 6-inch kayak, this thing turned remarkably quick.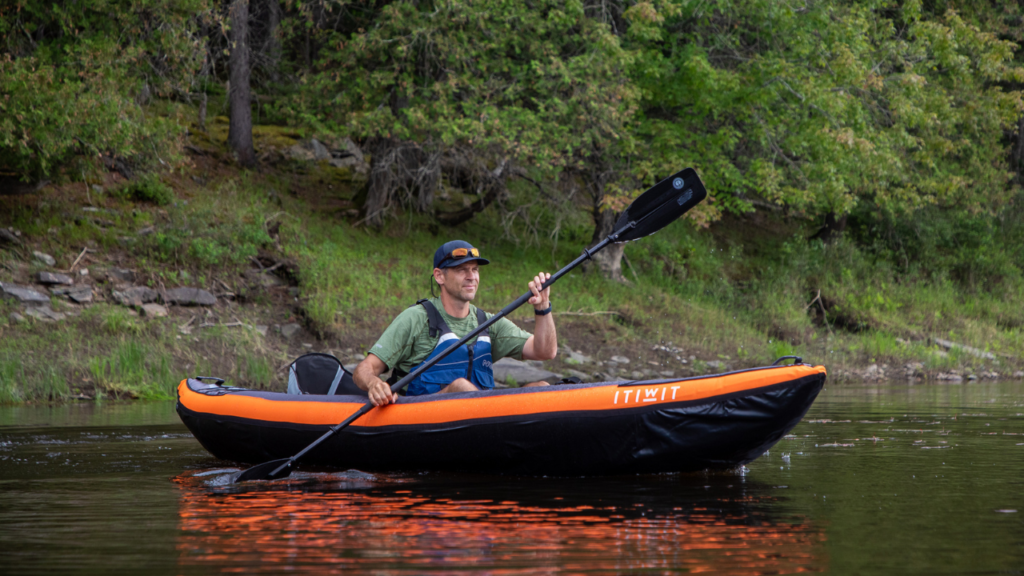 Is the Itiwit a comfortable kayak?
Inflatable kayaks are often quite comfortable, and the Decathlon Itiwit is no exception. It's soft, spacious (especially with just one person in there), and the built-in seats are nice and thick. Being that you inflate them manually, you can actually tailor each seat's level of cushioning/support to your liking. Whatever the case, the base of the seat keeps your butt off the floor, which means you stay dry while paddling (for the most part). Another accidental asset of this boat's design is that if you're paddling solo, you can leave the unused front seat in there to act as a foot brace. This extra purchase really boosts the overall comfort.
Maximum weight for the Intiwit kayak sold by Walmart
In terms of who would be comfortable in this boat, well, the Itiwit has a max capacity of 507 pounds (functionally-speaking you probably want to cap it closer to 400 pounds), which means that this is a great option for large paddlers.
If you're on the heavier side and are just looking for something comfortable and stable to mess around in, this would be a perfect choice. And if you're planning to paddle tandem, with that capacity and the 12-foot, 6-inch length, those are still very generous parameters to work within. If you're gunning for the full 3-person allowance, then realistically that's going to entail an adult and two children, or two small adults and a child. That will be a bit more cramped, but totally doable for a shorter excursion.
How good is the Itiwit kayak?
Read more: Mass audubon canoe meadows wildlife sanctuary
At $260 USD (from Walmart), the Decathlon Itiwit is definitely a good-value purchase. It's stable, comfortable, paddles in a surprisingly passable way, and it appears to have much more integrity than the less expensive INTEX Challenger. Remember, less expensive doesn't always mean a better value, you have to find that sweet spot. The only thing I would caution prospective owners about is that the outer layer absorbs water somewhat readily, so make sure to dry it out thoroughly before packing it away. This will help prevent the build-up of mildew.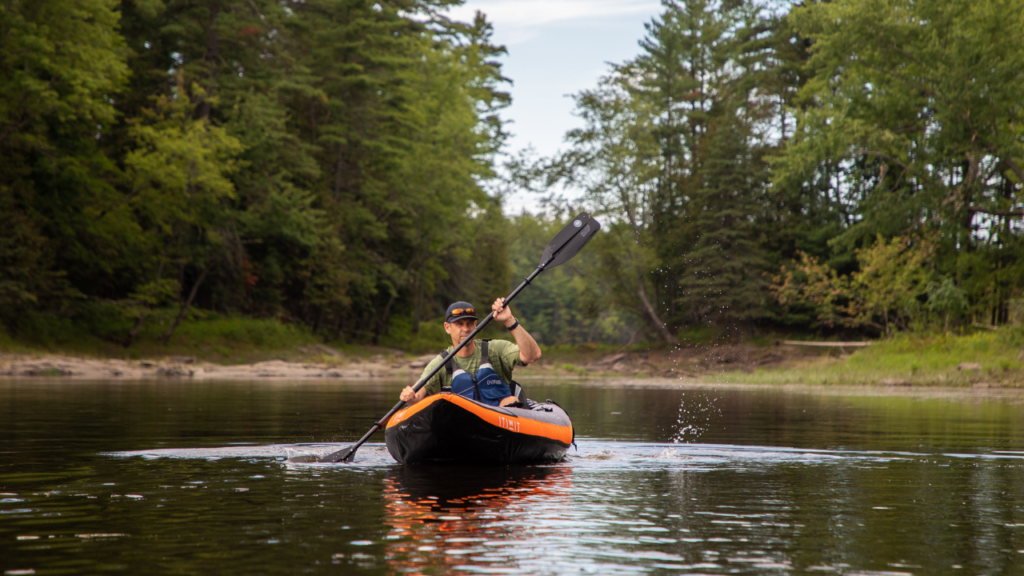 Side note on my approach to reviews:
Something I've come to realize over the past few years is that most kayaks have something valuable to offer to certain types of paddlers. I'll be honest, in the past I used to look at models like this and think, "What a piece of crap!" But that's because I was looking at it from a different lens.
Nowadays, after testing so many kayaks across vast spectrums of price and style, I've come to realize that there are pros and cons to everything. That's why you'll never – no, rarely ever, will you hear me completely trash a kayak in a review. If it's truly a piece of garbage then I'll let you know. But otherwise, I like to focus on the positives that apply to different niches.
Who is the Itiwit kayak for?
This budget-friendly kayak is for anyone looking for a portable boat that can be used as a single, tandem, or even a three person (likely family) craft. Those with a need for speed or wanting something for long-distances should probably look elsewhere. But the Itiwit will certainly get the job done for a day on the water while letting everyone feel stable and relaxed.
This is a true recreational kayak, and one that is best kept to flat water, or maybe some Class 1 sections. I would call this a "gateway kayak," which is to say, a great first kayak for anyone trying to get a feel for the sport. As your passion and your skills progress, you can begin to explore other options.
And thus concludes my Walmart kayaking experiment. If price has been a barrier-to-entry, then I hope this inspires you to give kayaking another look. Some give-and-take is to be expected with this approach, but the bottom line is that I found myself a totally viable, full kayak package, on the cheap, and it provided me with a fun day at the lake. What more could you ask for?
For more gear-reviews, helpful how-tos, and seeing it all put into action for my Paddle Tales adventures, subscribe to get paddling news in your inbox or check out PaddleTV.
Take a free online safety course for canoeing, kayaking, and stand up paddling (SUP), brought to you by the American Canoe Association and the U.S. Coast Guard: https://americancanoe.org/education/resource-library/paddlesports-online-course/
Other paddling gear I use and recommend
NOTE: These are affiliate links where I'll earn a small commission if you make a purchase at no additional cost to you, but it's a great way to show your support. Thanks!
FOOTWEAR
NRS Kicker Remix Shoe
NRS Boundary Boot
NRS Guide Long Sleeve Shirt
PADDLING SHIRTS / TOPS
NRS H2Core Silkweight Shirt
Read more: 3 person canoe with motor
NRS H2Core Silkweight Long Sleeve Shirt
NRS Hydroskin Short Sleeve Shirt
NRS Riptide Splash Jacket
NRS Flux Dry Top
PFD'S – LIFE JACKETS
NRS Odyssey PFD
NRS Zen PFD
NRS Chinook PFD
OTHER PADDLING GEAR
Zoleo Communicator
NRS Drylander Sprayskirt
WRSI Current Helmet
PADDLING SHORTS/BOTTOMS
NRS Benny Board Short
NRS Hydroskin Shorts
SUNGLASSES
WileyX