Are you craving an exciting outdoor experience that combines stunning natural scenery with the opportunity to see magnificent manatees up close? Look no further than Homosassa Springs in sunny Florida. The Homosassa River, with its consistently warm temperature and crystal-clear waters, serves as a sanctuary for these gentle creatures, especially during the colder months. In this article, I will take you on a virtual journey through my unforgettable kayaking trip with my wife, where we had the privilege of encountering these incredible mammals in their natural habitat.
A Surprise Adventure
During the school spring break in March, I wanted to surprise my wife with a unique and thrilling experience. With the recent cool weather, I believed the timing was perfect for us to spot a small group of manatees. After making reservations with American's River Rendevough, we embarked on a five-hour drive north from Pembroke Pines. Excitement filled the air as we packed our kayaks on the roof of our car, ready for this extraordinary adventure.
Paddling Through Paradise
Upon arriving at Homosassa Springs, the manager at American's River Rendevough provided us with excellent instructions and directions for our paddle. We embarked on a short two-mile journey along the scenic river, surrounded by breathtaking birdlife, picturesque landscapes, and charming homes. As we headed upstream, we were delighted to encounter a couple of manatees, playfully interacting with swimmers. Despite my initial worries, it turned out to be a promising start to our manatee rendezvous.
A Magical Encounter
On our way back, a fascinating sight awaited us. We began to encounter groups of manatees feeding in the shallow edges of the river. Among them were young manatees and majestic adults, weighing up to a staggering 4,000 pounds. Guided by two experienced canoeists from the Manatee Protection Group, whom we had met along the way, we set our sights on a mother manatee and her two-week-old calf. The moment they glided by us was nothing short of enchanting. Other manatees gracefully swam past, their gentle bodies brushing against my wife's kayak. It was an exhilarating experience she would cherish forever, as she had the privilege of being touched by these magnificent giants.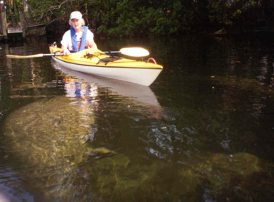 A Bittersweet Reality
While the encounter with manatees left us awe-struck, it was disheartening to witness the propeller scars on their bodies. Even the two-week-old calf bore three slashes—a stark reminder of the challenges these creatures face in their natural habitat. Our sense of wonder was tinged with a profound appreciation for the importance of conservation and protecting these vulnerable species.
Homosassa Springs State Park: A Must-Visit
In addition to the kayaking adventure, I highly recommend paying a visit to the Homosassa Springs State Park. This park not only features the Homosassa Spring, but also provides a sanctuary for a wide variety of Florida wildlife. Trained park staff offer informative presentations and an awe-inspiring manatee show. Immerse yourself in the natural beauty and learn more about the fascinating ecosystem that surrounds Homosassa Springs.
Plan Your Trip
To make the most of your Homosassa Springs kayaking adventure, it's essential to plan ahead. There are several hotels and motels in the Homosassa Springs and Crystal Springs area, easily accessible online. If you require a boat ramp, American's River Rendevough offers one, with typical fees in the area being $5.00 if your accommodation is not on the river. To visit the Homosassa Springs State Park, expect an approximate fee of $7.00 (tax included) and plan for a minimum of 3-4 hours to fully appreciate all it has to offer.
Exploring Homosassa Springs
Homosassa Springs, Florida is conveniently located where 490 meets US (19,98,55). If you're traveling from the South, take US 98; if you're coming from the North, take 44. Getting there is a breeze, and you can always rely on local navigational expertise to ensure a smooth journey. While AAA provides an excellent map, consider using the DeLorme 3-DTopoQuads for a more detailed adventure guide.
Embark on a remarkable kayaking experience that combines the thrill of paddling with the wonder of encountering manatees in their natural habitat. Homosassa Springs awaits you with its breathtaking landscapes, captivating wildlife, and the opportunity to make cherished memories. East Coast Paddle Sports is your trusted companion, offering top-quality equipment and expert advice to ensure an unforgettable journey.