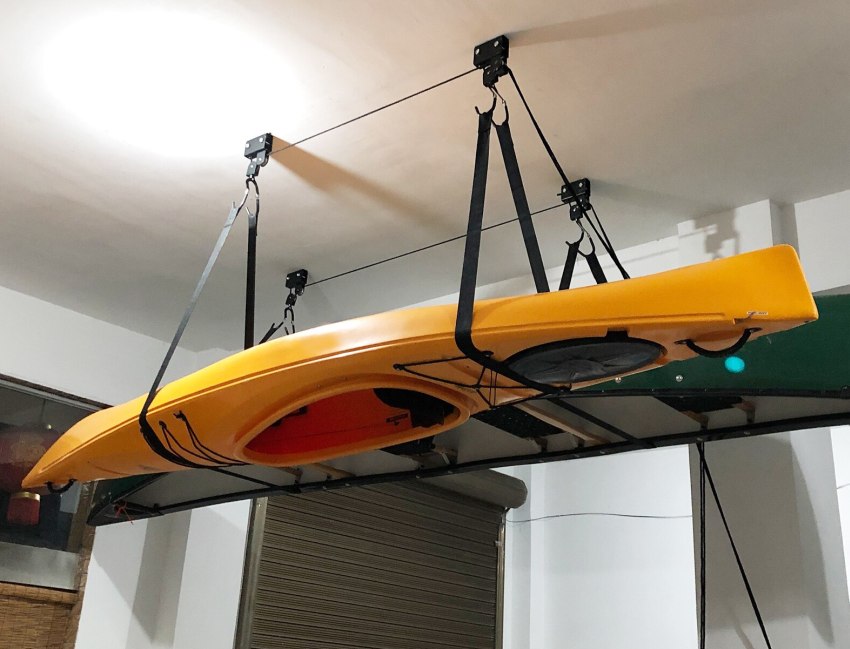 What do you do when your garage doesn't have enough space to store your kayaks?
Hang them from the roof, of course!
Most standard 1- and 2-car garages are built to just fit your vehicles, with a little bit of extra space for you to get in and out of your car. However, there is typically enough space overhead that you've got room to store plenty of things—including your kayak—up high.
Enter kayak hoist systems, specially designed to do all the heavy lifting for you and provide a safe, secure storage solution for your kayaks.
As someone who always ends up struggling with my heavy Azul Riot 14-footer, I can tell you it's an absolute game-changer in so many ways.
Not only does the built-in pulley (or motorized) system make it incredibly easy to lift the kayak off the ground, but it's a minimal-effort way to store the kayaks safely without cluttering up my limited garage space.
Below, I've done the research to help you find the absolute best kayak hoist systems—sturdy, solid, dependable, and built to last. Read over this in-depth guide to choosing the best system, and you'll find the ideal storage solution for your specific needs.
As an affiliate of Amazon and other retailers, we may earn a small commission when you buy via our links, at no additional cost to you. Thank you!
At a Glance: Best Kayak Pulley Systems
Best Overall: RAD Sportz Kayak Hoist Set
Safest: Harken 4-Point Hoister Storage System
Most User-Friendly: VIVOHOME Heavy Duty Ceiling Mount Bicycle Kayak Hoists
Best Motorized: ProSlat Garage Gator
Best for Small and Light Kayaks: StoreYourBoard Kayak Ceiling Storage Hoist
Easiest to Install: Great Working Tools Kayak Hoist Lift
Best for Uneven Garage Ceilings: Powerfly Garage Ceiling Kayak Hoist (adjustable length, perfect if the garage ceiling is slanted)
Best Budget: Extreme Max 3004.0204 Kayak Hoist
Comparison Table: Best Kayak Pulley Systems
The Ultimate Guide to Choosing a Kayak Hoist System
A kayak hoist system is typically a combination of two parts:
1) A rack, hook, or cradle to hold the kayak.
2) A rope-and-pulley system that hoists the kayak off the ground.
With the kayak hoist system anchored to the ceiling of your garage, you occupy storage room overhead rather than taking up floor or wall space.
Installation of your kayak hoist system doesn't have to be complicated; on the contrary, many systems are designed with enough anchoring and mounting hardware that installation is straightforward and fairly simple. You'll need some tools (ladder, stud finder, drill, etc.), but overall, it's a DIY job that most moderately handy people can pull off.
Watch this video to see just how easy it really is:
Not too bad, right? Follow the process step-by-step, and you'll have yourself a roof-mounted storage solution in no time.
Ceiling Mounted Hoists vs. Wall Mounts: Which is Better?
The answer to this question will depend largely on two factors:
1) The size of your garage. Most modern townhouses are built with garages sized to fit 1 or 2 cars, with only a little bit of additional room for storage and movement. However, older homes (and many standalone houses) will have extra-large garages with ample storage space.
2) The size of your vehicles. If you're parking a compact car, you'll have a lot more garage space than you would with an SUV or minivan.
Wall-mounted kayak storage solutions are typically more user-friendly. You simply anchor the rack, cradle, or slings to the wall, and it's easy to store or take out the kayak. There's far less effort involved, and wall-mounted solutions tend to be cheaper.
However, on the downside, they do occupy a lot of wall space and protrude outward at least 1 to 1½ feet wide (depending on the depth of your kayak). This means there is a greater risk that you'll scratch the kayak when you open the door of your vehicle, or scratch your vehicle when storing/removing the kayak.
Ceiling-mounted hoists clear up precious wall space, allowing you to move in your garage more freely. They shift the bulky, heavy kayak into storage above your head, a space that is typically unoccupied in your garage. You can easily store 2 kayaks overhead in a 1-car garage, and up to 5 kayaks in a two-car garage.
On the downside, hoist systems are typically operated by two people—which is a challenge if (like me) you end up having to store the kayaks on your own. They're a bit trickier to install, and there is always the danger that if they fail (or you fail to secure them properly), the falling kayak could damage your vehicle—not to mention sustain damage itself.
The good news is that the best kayak hoist systems are designed to be easy to secure and come with straps/cradles/slings secure enough to handle more than enough weight for even heavier/longer kayaks. That's why it's so important that you choose the best—all of which we've gathered into our list below.
Types of Kayak Hoist Systems:
There are two types of kayak hoist systems to choose from:
Motorized – Motorized kayak hoist systems use electric motors to raise the lower the kayak once it's secured in its sling/straps/cradle. As you can imagine, these systems are much more convenient—they do all the heavy lifting for you, and all you need to do is press a button to turn on the motor. They typically come with built-in fail-safes ­and stop-locks that keep the hoist system secured in place.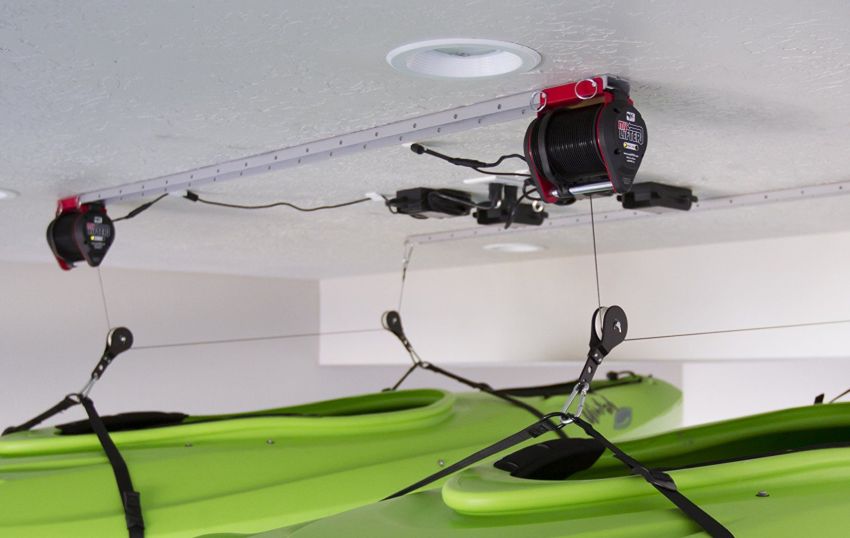 However, be warned: they tend to be much pricier. The cost of the motorized system drives up the price tag. They're also prone to malfunction, more complex to install, and require a power supply in order to function.
Manual – Manual kayak hoist systems are typically a rope-and-pulley system—you pull the rope, and it runs through the pulley to make the task of hoisting the kayak a bit easier. These systems require user strength (YOU) to operate, and you will always need to have a secure anchor point to tie off the rope to keep the kayak hoist locked overhead.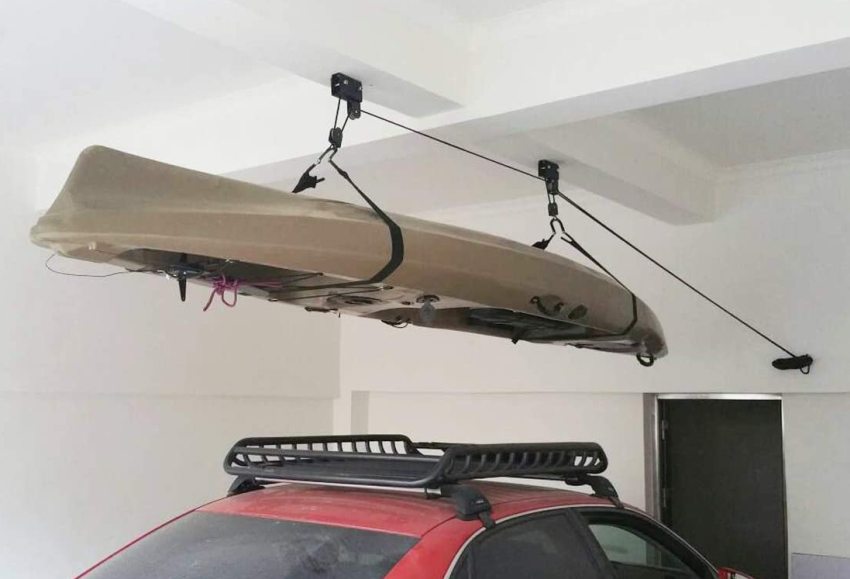 However, they tend to be significantly more cost-effective and easier to install, and because of their low-tech nature, they're fairly malfunction-free. The biggest risk is operator error (failing to secure the rope), so a careful user will rarely have trouble with these kayak hoist systems.
Factors to Consider When Choosing a Kayak Pulley System
Garage Ceiling Height
There is no "standard" when it comes to garage ceiling heights. There is a minimum height of 8 feet, but garages in townhouses can range in height from 8 to 12 feet, while standalone garages or garages built into freestanding residential buildings can be even taller.
Read more: Lake o'hara canoe rental
How does this affect your decision?
Simple: you need to know for certain your garage ceiling is tall enough to accommodate the kayak hoist.
Remember, the kayak won't be mounted directly on the ceiling (it's not like a wall mount). The anchoring hardware will be secured to the ceiling, but then the slings/cradles will hang down an additional few feet.
If your garage ceiling is shorter than 9 feet, it's likely not worth using a roof-mounted kayak hoist system. The kayak will hang down right around head level, and may even scratch the roof of your car.
Vehicle Clearance
The height of your vehicle is another major factor to consider. Garage doors are a pretty standard 7' tall, which is enough to fit most standard passenger motor vehicles (without roof racks, rails, and other customizations added onto taller SUVs and trucks).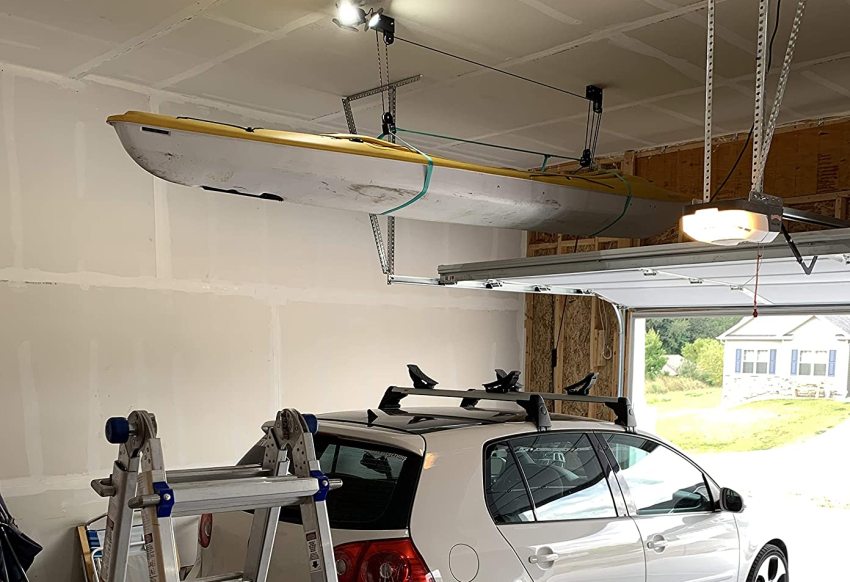 So, you know the vehicle won't be more than 7' tall in your garage. If your garage has a 12' tall ceiling, you've got plenty of space above the vehicle to store a kayak. But if it's a 9' ceiling, those two feet between ceiling and vehicle aren't enough.
Now, the game changes if you drive a passenger car—sedan, coupe, mini, etc. Those smaller vehicles are likely around or under 5' tall. That means even lower garage ceilings will be able to handle a kayak hoist system.
Weight Capacity
How much weight can your kayak hoist handle? How much does your kayak weigh?
If you're a proud owner of a lightweight thermoformed kayak (like the Pelican Summit 100X my wife paddles), you're dealing with well under 50 pounds of kayak weight. Literally every kayak hoist system can handle that amount of weight—minimum weight capacity is around 75-100 pounds.
But what about heavier rotomolded kayaks—like my 14-foot Azul Riot—or tandem kayaks? You're looking at upwards of 50 pounds (more if you store all the paddling gear in the kayak to keep it out of the way), which means you need a kayak hoist system with a higher weight capacity.
Most of the kayak hoist systems on our list have a weight capacity of 100+ lbs, meaning they're safe for you to use no matter the size/weight of your kayak. However, if you've got an extra-heavy kayak, it's worth buying a hoist with a higher-than-average weight capacity.
Storage Conditions
Kayaks are built to be sturdy and durable, but they still need to be well taken care of in order to keep them in good condition for years of regular use. That means storing them in the right location.
In this case, that means:
Free of mold or fungus, which could grow on your kayak and weaken the hull.
Protection against extreme cold, which can deform polyethylene and wooden kayaks, as well as make thermoplastic/rotomolded kayaks brittle and more prone to cracking
Dry, so the kayak doesn't sprout its own mold or form algae (picked up from the lake or river where you paddled)
Safe from impacts, which could damage the kayak and shorten its lifespan
Give your garage a thorough once-over to make sure there are no black mold spots, no leaks, and that the weatherstripping around the garage door is still in good condition to keep out some/most of the winter cold.
Anchor Points
For a safe installation, you need to secure the anchor points to the wooden ceiling beams. This is easy if the garage ceiling is open and the beams are visible—less so if the ceiling is finished and you have to use a stud-finder to locate the beams for drilling.
The placement of those anchor points will be a factor in how you arrange the layout of your kayak hoist system (especially if you're working with multiple systems). It's always worth locating the studs to make sure you have secure anchor points before you start to work placing the hoist.
Installation
The installation process, as you saw in the video above, is fairly straightforward. However, you will need to have the right tools for the job, and the skill to use them correctly. If the installation isn't done correctly, you run the risk that the kayak hoist system will give out, slip out of place, or break, and cause damage to both your vehicles and your kayak.
This is an important factor to consider when thinking about buying a kayak hoist system. If you're not confident in your ability to correctly mount the hardware or you don't have the tools for the job, then you might be better off using a simpler, more user-friendly wall-mounted system or a kayak rack.
Materials
It should go without saying, but I'm saying it anyway: you absolutely need materials that are strong and sturdy enough to withstand years of regular use without breaking.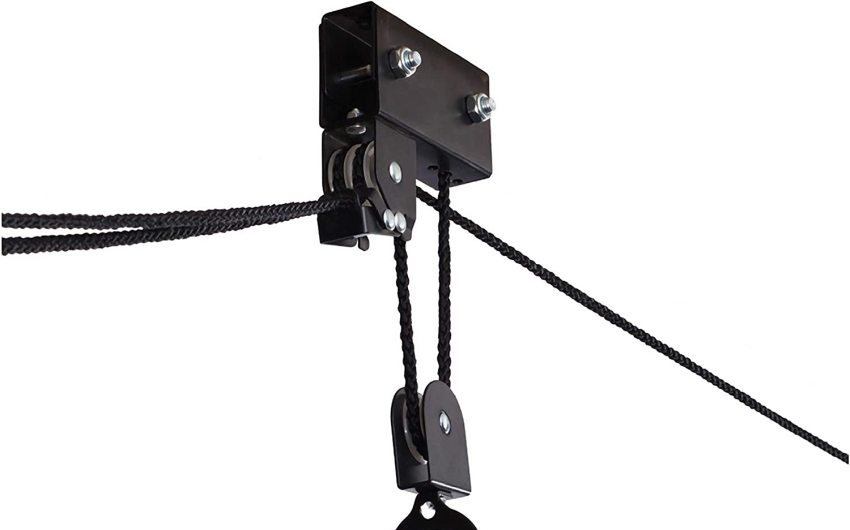 Typically, rope-and-pulley systems are made using a metal pulley wheel, but cheaper systems may be mounted on plastic hardware and/or use ropes that are weak and prone to breakage.
That's not to say plastic hardware is bad; you just need to make sure that it's sturdy enough to handle the weight of the kayak, as well as the extremes of the weather in your area (extremely hot summers like in Arizona, New Mexico, and Texas, or extremely cold winters like we get up here in Canada).
As for the rope, you want to make sure it's durable and able to withstand the weight of the kayak, as well as regular use. Nylon rope is typically a great option, because it doesn't rot when wet, is resistant to damage from weather extremes, and has good abrasion resistance.
Note: If the rope that comes with the kayak hoist system feels flimsy, it's definitely a good idea to consider buying your own. Better safe than sorry!
Frequency of Use
Let's be honest: kayak hoist systems are more effort-intensive than wall mounts or storage racks. The rope-and-pulley systems have to be lowered carefully to keep the kayak balanced, while the motorized systems tend to operate fairly slowly.
If you're the type of kayaker who goes paddling on a daily/weekly basis, it may be a bit of a hassle to have to lower/raise the kayak every time you go out. Frequent paddlers may prefer using a wall-mounted system because it's easier to load and unload the kayaks quickly.
However, if you get winters too cold for kayaking and the kayak spends a lot of time in storage, a kayak hoist system will be a good option because it keeps the vessel out of the way for the months when it's not in use.
Ease of Assembly
Most kayak hoist systems come with all the components neatly packed into their box, and you have to put them together piece by piece. Of course, there will be instructions to show you how to assemble it, but you may find the process more complex than anticipated—doubly so if the instructions are unclear or the diagrams poorly drawn.
When researching the best kayak hoist systems, it's worth searching the reviews to find what users commented regarding the ease of assembly. You'll get a better sense of how complex/frustrating or simple/easy the process is.
Hooks, Straps, and Slings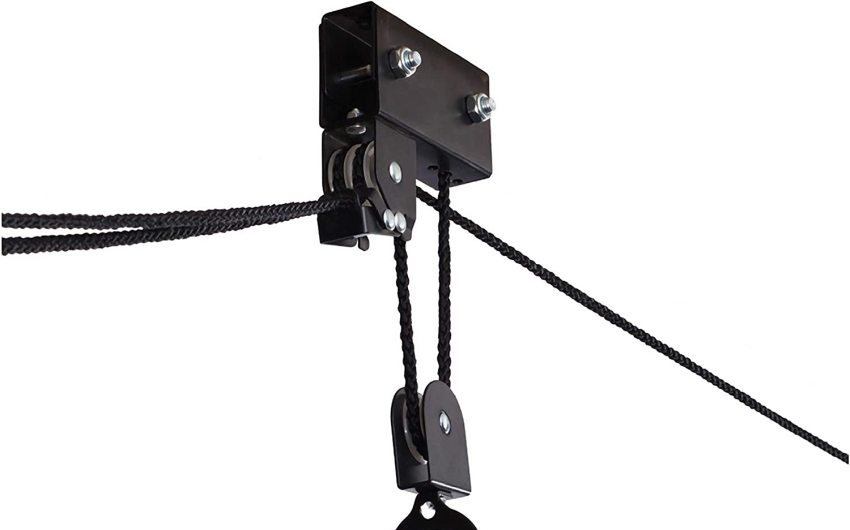 This is a small factor, but an important one! The rope-and-pulley does all the work of lifting the kayak, but the hooks, straps, and slings have to support the kayak's weight to keep it securely stored. If they are made from cheap materials, they could bend, fray, or break altogether with regular use.
Locking Mechanism
Not all kayak hoist systems include a locking mechanism to keep the rope-and-pulley system from slipping. Motorized systems lock automatically, but manual systems (especially the budget ones) will typically include wall-mounted anchors that you have to wrap the ropes around to lock the hoist in place. These systems are vulnerable to user error—if you don't tie the ropes properly, the rope could slip and the kayak could come crashing down.
Read more: Love many trust few always paddle your own canoe
If you are worried about this happening, it's worth looking for a hoist system that includes some sort of locking mechanism as a safeguard against user error.
Price
Let's be honest: we all consider price when shopping for anything. You want to find a product that is the perfect balance of lowest-price-possible and highest-quality-possible. As you'll see in our list below, kayak hoist systems can start as low as $40 and range as high as $500. That's quite a price range to work in!
Budget kayak hoists aren't going to be "cheap garbage" (at least not the one we picked!), but they may lack some of the features of the pricier hoists. Consider all of the factors mentioned above first, then look at the price. It's worth paying a bit more for a safe, durable kayak hoist that you know will serve you well for years to come.
Our Best Rated Kayak Hoist Systems
Best Kayak Hoist System Overall: RAD Sportz Kayak Hoist Set
Type: manual Weight Capacity: 125 lbs. (56.7 kg)Ceiling Height: 12′ (3.65 m)
This kayak hoist system by RAD Sportz is everything you're looking for: easy installation and assembly, user-friendly operation, and a built-in safety locking mechanism to ensure your kayaks stay put.
From the moment you open the box, you'll find all the parts neatly packaged and organized, accompanied by installation instructions that are easily read and understood. All the parts are provided, and you just need the basic tools to get the job done.
Once the mounts are anchored in place, it's a cinch to get the kayak cradle hooked into place to raise the hoist (with surprisingly little effort, thanks to the pulleys!). All you have to do is activate the locking mechanism and you can walk away knowing your kayaks are safely stored.
Users have commented that the straps are less-than-top-quality, however, so it's a good idea to keep an eye on the straps to make sure they don't fray or break.
Pros:
User-friendly assembly and installation
Built-in locking mechanism (though you'll still do well to tie off the rope for added security)
Easy to adapt/customize
Compatible with longer/heavier kayaks
125-pound weight capacity
Cons:
Ropes/straps have quality control issues/prone to breaking
Rope is too short to use on 12' ceilings
Safest Kayak Hoist System: Harken 4-Point Hoister Storage System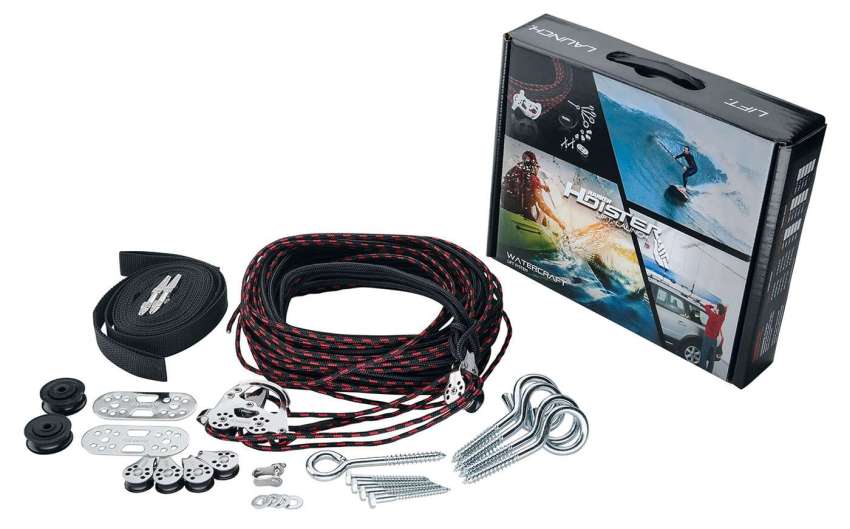 Type: manual Weight Capacity: 60 to 200 lbs. (27.2 to 90.7 kg)Ceiling Height: 10 to 16 ft. (3.05 to 4.87 m)
Install this bad boy when you want to be absolutely certain your kayak is securely stored and will never fall down. Thanks to the four-point, one-rope system, you can raise/lower the kayak without the need for additional hands—perfect for easily storing the kayak after a long, tiring day of paddling.
Not only is the four-point rope system incredibly secure, but the self-locking cleat grips will instantly clamp down tight on the rope. You can trust that it won't slip or slide out of place even if you forget to tie off rope to a secure anchor point.
The instructions may not be the clearest and assembly can be a bit tricky, but at the end of the process, you get a truly durable and safe hoist system perfect for storing kayaks of all sizes.
Pros:
Designed for one-person operation
4-point system is ultra-secure
60-pound weight capacity
Lift the kayak right off your car-top rack/carrier
Durable components, sturdy design
Cons:
Installation is tricky and requires more advanced tools
Most User-Friendly Kayak Hoist System: VIVOHOME Heavy Duty Ceiling Mount Kayak Hoists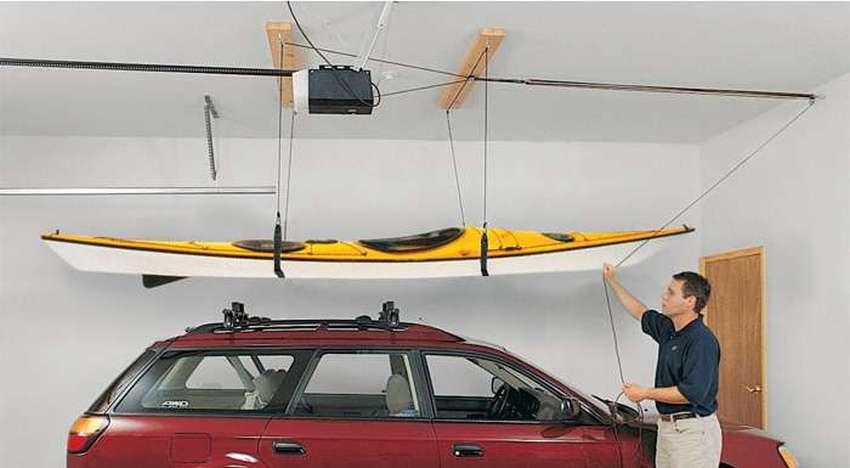 Type: manual Weight Capacity: 125 lbs. (56.7 kg)Ceiling Height: 12 ft. (3.65 m)
If you've got a heavier kayak in need of safe storage but don't have the chops to install a super-complex hoist system, you'll love this one! It's designed to be incredibly user-friendly, with an easy installation, simple components, and clear instructions that will walk you step by step through the assembly process.
It's a one-rope hoist that can be operated by just one person, and the pulley system will keep your kayak perfectly level while you lift it into safe storage. The heavy-duty iron hooks are coated with rubber to both add grip and avoid scratching your kayak's hull. The ropes and straps are both made of super-tough nylon that is tear- and fray-resistant. And for added safety, the hoist system comes with a locking mechanism and an additional anchor point to tie the rope to the wall.
Pros:
125-pound weight capacity
Included 4-pack of hooks ideal for hanging bicycles, ladders, kayaks, and canoes
Compatible with longer (12"+) kayaks
Very easy to assemble and install with the minimum of tools
Premium quality materials
Cons:
Supplied anchor/lag bolts may be poor quality—consider buying your own
Quality control issues (product reportedly arriving defective or damaged)
Best Motorized Kayak Hoist System: ProSlat Garage Gator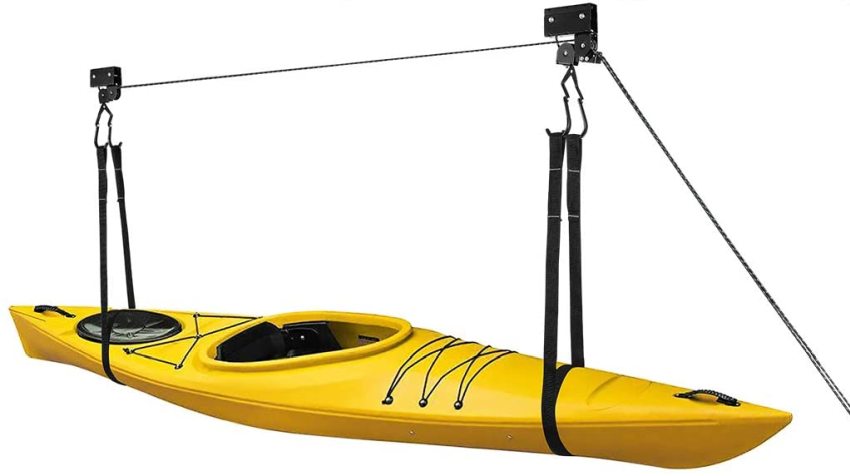 Type: motorizedWeight Capacity: 220 lbs. (99.8 kg)Ceiling Height: 15 ft. (4.57 m)
If you'd rather let a motor do the work of operating your hoist system, this ProSlat kit is your top pick. Literally all you have to do is press the button and the built-in motor will lift the kayak for you and lock it safely in place.
It's compatible with kayaks, canoes, paddleboards, and other recreational water vessels, allowing you to load directly onto your car with minimal effort. The lift/hook bar is 9 feet long, perfect for garages of any height. The controller is connected to a 15-foot wire that can be placed in the most convenient location in your garage and easily operated. With 8 storage hooks, a key lock, and four provided kayak straps, it's among the most secure kayak hoists you'll find on the market.
Pros:
The motor will handle all the heavy lifting
Durable mounting hardware
Lockable for safety and to prevent theft
Video instructions on ProSlat website makes the installation process easier
Cons:
Pricey
Hardware (bolts) may arrive defective and need replacing
Best Kayak Hoist System for Small and Light Kayaks: StoreYourBoard Kayak Ceiling Storage Hoist
Type: manual Weight Capacity: 60 lbs. (27.2 kg)Ceiling Height: 10 ft. (3.05 m)
If you've got a lot of smaller kid-sized kayaks that you want to store out of the way, this low-budget hoist is just what you're looking for. Though its weight capacity is limited to 60 pounds, that's more than sufficient to handle most kayaks 10' and smaller—especially compact thermoplastic kayaks of the sort used by kids.
The hoist is built from solid materials and feels heavy duty, and the PRO version includes an adjustable horizontal center strap that will keep the vertical hoists securely aligned.
Read more: Canoe bill of sale mn
Thanks to the provided video instructions, you'll have no problem getting this kayak hoist system up and running in under an hour with only a few tools required.
Pros:
Simple to assemble and install—video instructions easy to follow
Heavy-duty materials, solid hoist system
PRO model includes premium-quality straps/hoists
Auto-brake system built in
Good product at a great price
Cons:
Low weight capacity (60 pounds)
Some users complain about customer service
Easiest Kayak Hoist System to Install: Great Working Tools Kayak Hoist Lift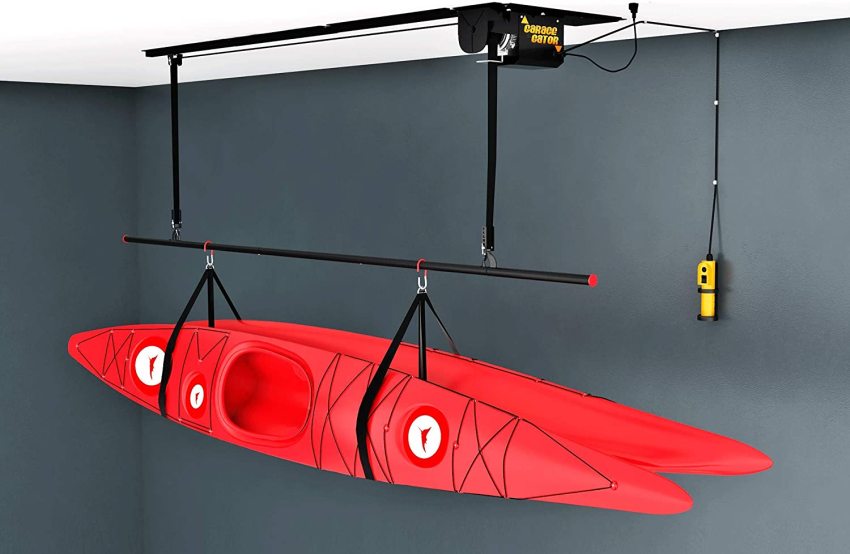 Type: manual Weight Capacity: 125 lbs. (56.7 kg)Ceiling Height: 10 to 12 ft. (3.05 to 3.65 m)
Don't have the handyman chops to install a complex system? Then you'll love this hoist! It literally requires four tools: a drill, a star screwdriver, tape measure, and a Crescent wrench. The instructions are easy to understand and clearly spell out the installation process. It even shows you how to adapt the hardware according to the items you're mounting (bike vs. kayak vs. canoe).
The heavy-duty, high-gauge materials can handle up to 125 pounds, and the simple one-rope system can be operated without the need for additional help. Just slide the cradle straps around the kayak and get lifting. When it's in place, the secure locking mechanism will stop it from slipping (though it's always recommended you tie off the rope, too).
Some users have complained that the rope is too lightweight and breaks easily, and you may need to buy adjustable straps (highly suggested, in fact). But for the price, it's a top-notch choice for your garage storage solutions.
Pros:
Budget product, decent quality
Super easy to install
Heavy-duty hardware
125-pound weight capacity
Ideal for 10-12' ceilings
Cons:
Kayak may slide out of the sling—you'll need a rope to tie the two hoists together to secure the kayak in place
Hardware (bolts and screws) may arrive defective or need replacing
Best Kayak Hoist System for Uneven Garage Ceilings: Powerfly Garage Ceiling Kayak Hoist
Type: manual Weight Capacity: 125 lbs. (56.7 kg)Ceiling Height: 12 ft. (3.65 m)
If you live in an older home, you may find that it has an uneven garage ceiling (an occasional trait common among houses built in the 1970s and earlier) that would make it difficult to install a kayak hoist system. But not this system! It's designed to be fully adjustable—both in length and height—so you can accommodate an uneven ceiling.
The hoist has a good weight capacity (125 pounds), making it ideal for even larger/heavier kayaks. The straps can be adjusted, too, according to the width and depth of your kayak, and how far you want it hanging down from the ceiling.
Thanks to the one-rope, self-locking system, you'll find that hanging your kayak is an absolute breeze.
Pros:
Adaptable to uneven ceilings
125-pound weight capacity
Adjustable system—hooks and hangers can be shortened/lengthened as desired
Installation is an easy, straightforward process (especially with the video guide)
One-person operation
Cons:
Poor quality rope—should be replaced
Bolts and screws may not be suitable for very heavy kayaks
Best Budget Kayak Hoist System: Extreme Max 3004.0204 Kayak Hoist
Type: manual Weight Capacity: 125 lbs. (56.7 kg)Ceiling Height: 12 ft. (3.65 m)
Last on our list is this low-budget kayak hoist, the absolute cheapest around while still being a decent option. With a 120-pound weight capacity, it's capable of handling larger and heavier kayaks. This hoist is designed to be operated by one (fairly strong) person.
The 50-foot rope makes it perfect for even taller garages, and gives you plenty of length to tie off the end for maximum security. The powder-coated steel locking mechanism is sturdy and provides a first line of defense against device failure. The two-inch webbing straps will hold your kayak securely in place, and it can be adapted to hang around 6" away from the ceiling—perfect if you have lower ceilings.
Pros:
Compatible with 12' garage ceilings
Great price tag
Straightforward installation
120-pound weight capacity
Can be adapted to hang the kayaks very high
Cons:
Mounting hardware prone to breakage/defects
Tough to release the rope lock
FAQs
Are kayak hoists safe to use?
They absolutely are! Whether you use a manual or motorized hoist, these systems are designed to safely raise/lower the kayak. As long as the anchors are correctly installed, the systems are assembled according to the instructions, and you operate the hoist safely and carefully, there will be no need to worry!
How much weight can a kayak hoist hold?
The average weight capacity of a kayak hoist is between 100 and 150 pounds, though you can find hoists with a weight capacity of 250+ pounds.
What do I do if one side of my kayak hoist breaks?
If one side of your kayak hoist breaks, you will need to replace the pulley (or motorized components). You may be able to contact the manufacturer to get a replacement (free of charge, if it's still within warranty period). If it's a rope-and-pulley system, you should be able to find something serviceable at your local hardware store in a pinch.
What do I do if my kayak hoist straps are too long?
Typically, kayak hoist straps are adjustable so you can shorten or lengthen them as desired. However, if your kayak hoist straps aren't adjustable, you can replace them with third-party cam buckle or ratchet straps (of the sort you can buy at any hardware store).
How do I mount a kayak hoist if my garage has no exposed rafters or beams?
You'll need a stud finder to help you locate the wooden roof studs or joists. Then, simply drill the anchor screws through the plaster/sheetrock directly into the wooden beams for a secure anchor point.