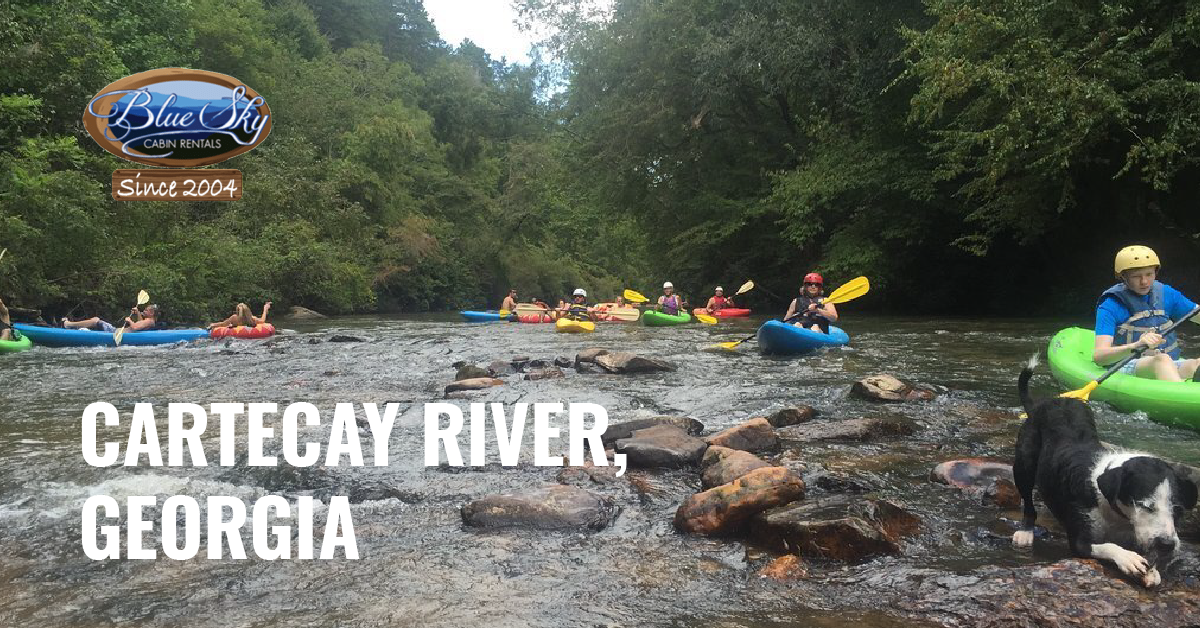 North Georgia's Cartecay River is a popular recreational area where both locals and visitors enjoy fishing, hiking, kayaking, canoeing, tubing, and more. The Cartecay River basin covers 86,734 acres, which are largely undeveloped, although there are some great riverfront rental cabins along the Cartecay. The river does flow through residential developments along the way, as well as multiple tributaries for extended excursions. While the start of the river run is calm, it is also the site of several Class II/Class III whitewater rapids.
Know The Flow Of The Cartecay
The 'Cay flows 19 miles through Ellijay from headwaters in the Chattahoochee National Forest. Here, the Cartecay River and Ellijay River unite as part of the Coosawattee River watershed, becoming Carter's Lake several miles downstream. The Ellijay River winds through the mountains, as a popular site for family-friendly tubing fun. The river itself and most of its watershed are located within the southeast portion of Gilmer County. The Cartecay River runs primarily east to west near Georgia SR 52 through some of the region's most scenic displays, including Blackberry Mountain.
*Local's Tip: Find real-time flow reports and updates on current conditions online!
Paddling The Cartecay
Photo Credit: nomadicflowoutfitters via Instagram
There are two distinct paddle sections along the Cartecay River: Lower Cartecay Road to Stegall Mill Road (Middle Cartecay) and Stegall Mill Road to DNR.
Lower Cartecay Road to Stegall Mill Road • Length 2.52 Miles
Read more: Overnight rafting trip
Put in at the bridge on Lower Cartecay Road. This section offers a series of natural features, including chutes, small islands, shoals, and a swirling eddy as well as Class II/III rapids, culminating at Blackberry Falls for an epic finale! The Stegall Mill Road takeout is just past the bridge downriver from Blackberry Falls on the right, or continue on the second-leg to DNR.
Stegall Mill Road to DNR • 5.17 Miles
This extended leg on the second-half of the Cartecay River features ledge drops, swirling pools, Class II/III rapids, and the craggy Clear Creek Falls.
*Local's Tip: Clear Creek, a tributary of the Cartecay at the base of Clear Creek Falls, makes for a great beginner's creeking trip. Please note that water levels may be unpredictable here.
Local Outfitters For River Adventures
Photo Credit: ellijayriveroutfitters via Instagram
Cartecay River Experience – 2400 Hwy 52 East, Ellijay, GA 30540 • (706) 889-1108
Kayaks, canoes, and tubes for rent. Safety gear (including life jackets), and year-round shuttle service included with all rentals.
Read more: Dillard ga white water rafting
Ellijay River Outfitters – 88 Holt Bridge Rd, Ellijay, GA 30536 • (706) 889-8697
Lazy river tube floats and kayak rentals, All necessary gear provided,including life vests, and shuttle service to the river. Also an excellent location for fishing!
Fishing The Cartecay
Photo Credit: georgiaoutdoornews via Instagram
The Cartecay River offers excellent bream and bass fishing. A portion of the river is part of Georgia's trout stocking program, making it a great site for fly-fishing, too!
Reel 'Em In Guide Service – (706) 273-0764
Home to 7.5 miles of private waters for trophy trout fishing (catch and release only).
Extending Your Cartecay Experience
Read more: Upper tuolumne river rafting
The beautiful river lends itself to more than just river rafting and adventure getaways. You can surely admire the nature of the Cartecay by land as well!
Cartecay River Loop Trail – Mulkey Road to at Rich Mountain Cartecay Tract
Photo Credit: squatchtrading via Instagram
The 3.4-mile Cartecay River Loop Trail is a popular, easy-to-moderate hike accessible year-round, even to dogs! The trail parallels the river for a large portion of the route, with a few points of somewhat steep elevation change. There are plenty of places to stop along the way to rest and bask in the breathtaking river views.
Cartecay Bike Shop – 56 Depot Street Ellijay, GA 30540
Photo Credit: cartecaybikes via Instagram
Ellijay is the "Mountain Bike Capital of Georgia" with over 50 trails. Get out there with Cartecay Bike Shop, a full-service bicycle shop offering repairs, maintenance, rentals, gear, Saturday Social Rides, mountain bike classes, and trail tips.
Cartecay River Brewing Co – 26 River Terrace, Ellijay, GA 30540 • (706) 395-8935 Photo Credit: cartecayriverbrewingco via Instagram
No Cartecay adventure is complete without a stop at this pet-friendly, 4-barrel craft brewery in East Ellijay. Open Wednesday through Sunday, it's the perfect place to just sit back and enjoy a day well-spent.
The Cartecay River is just 20 minutes from Blue Ridge in Ellijay (MAP). We have an array of waterview and waterfront cabins available, including beautiful homes right on the Cartecay River, so if Cartecay days are in your sights, we can put you right on the riverbanks!