Is a Bill of Sale Required for the Registration of a Boat in Minnesota?
First, read the guide to the proper sale/purchase of a vessel we prepared for you – it will help make sure that you haven't missed any important detail of the deal.
There are no requirements to provide a bill of sale for boat registration on the website of the Minnesota Department of Natural Resources (DNR). However, it is stated that you must know the following information when you register your watercraft for the first time:
Length
Hull material
Propulsion
Manufacturer
Model
Year
Serial or HIN
You will also need to provide a sales receipt proving that you have paid the tax on the sale. This information can be included in the Minnesota boat bill of sale. There is a universal registration form available in PDF format. Registrants can simply download it and fill its fields out. You can apply for a boat registration either at office locations of Driver & Vehicle Services or you can do it at the DNR License Bureau.
If it is a new watercraft at least 16-foot long (except kayaks and canoes), then the dealers will do all the paperwork for you. Read the guide that contains comprehensive information about boating in the state. According to the information in the chapter "Transfer of Ownership," you must get a bill of sale from the previous owner if the boat is currently licensed in the state.
Minnesota Boat Bill of Sale Registration Details
Watercraft Type Registration Fees Aquatic Invasive Species Surcharge Less than 17 feet $18 $10.60 17 feet up to and including 19 feet $27 $10.60 Over 19 feet but less than 26 feet $45 $10.60 26 feet but less than 40 feet $67.50 $10.60 40 feet in length and over $90 $10.60 Personal watercraft $37.50 $10.60 Rental or lease personal watercraft $37.50 $10.60 Rental or lease watercraft up to and including 19 feet $9 $10.60 Source: Minnesota Department of Natural Resources
Can You Download a Template of a Bill of Sale on the Internet?
You can certainly find various examples of a bill of sale on the Internet, and it is possible to download a printable template. There is no such form available on the website of Minnesota DNR. It is recommended to find the right free bill of sale form before selling or buying a boat in this state. Remember that this document works as proof that the deal has actually been made. You and the other party can have a copy of such a document for personal records even if it is not required for the registration of a watercraft.
Download a Free Minnesota Boat Bill of Sale Form
How to write a Minnesota Boat Bill of Sale?
Read more: Canoe kayak rack for pickup truck
Down below, you can take a look at the guidelines compiled by drawing upon the Minnesota boat bill of sale made by our professionals. We highly advise using the local official form when possible.
Step 1: Specify the bill of sale creation date.

Step 2: Type in the buyer's and seller's specifics:
Full legal name
Home address
City of residence
State
Zip code
Phone number
Email
Step 3: Provide the descriptive details of your watercraft:
Make (manufacturer)
Title number
Year
Color
Hull Identification Number
Odometer indication (in hours)
Value (in dollars)
If you sell your boat along with a trailer, make sure to include the following details in your bill of sale.
Make
License Plate Number
Color
VIN
Year
Value
In case there is an outboard or inboard motor that is involved in the deal, this information should also be included in the document:
Make
Horsepower
Serial number
Value
Read more: Outboard motor for a canoe
Step 4: Enter the payment method and price.
Type in the purchase date and write the total amount that has to be paid for the boat. You will need to also mark the sale method the buyer will go for:
One-time payment. Absolutely nothing complicated here: the buyer pays the full cost in one payment and has the boat delivered to them within the same day.
Several payments. With this method, you must enter the dates when the purchaser has to deliver the initial and the last payments, along with their sums.
Boat as a gift. In this case, you state that you do not expect monetary compensation from the buyer.
And after that, indicate the way the buyer will pay:
Cash
Check
Cashier's check
Money order
Lastly, specify if the purchase amount includes all applicable taxes.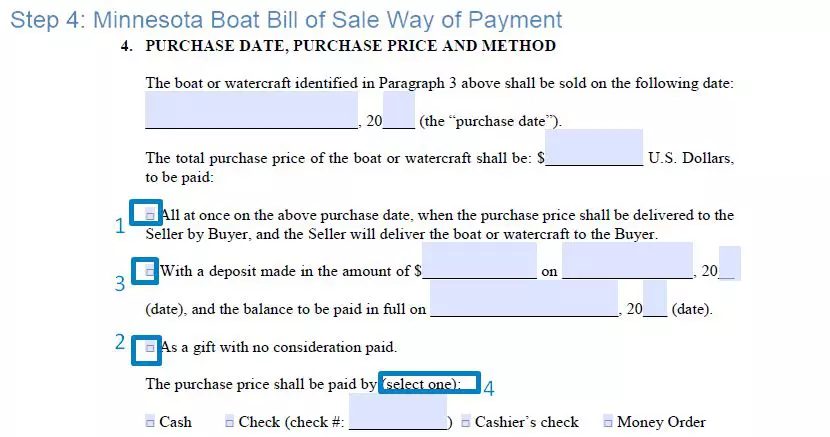 Step 5: Go through the miscellaneous terms.
Read more: Bass fishing from a canoe
The "as-is" provision states that the watercraft owner provides no warranty and is not liable for maintenance after the transfer.

Step 6: Put your signature(s) in the appropriate fields.
The purchaser is typically not requested to sign the bill of sale. However, it's recommended to get the document signed by all sides. As an additional precaution, you could have one or two people witness the process and sign the bill of sale.

Step 7: Notarize the bill of sale
Despite the fact that notarization is seldom mandatory, it can serve as yet another way to shield against legal troubles.
The original document copy must be given to the buyer because they will likely need it to obtain a title to their new motor boat. As a seller, you can either create a copy and store it or have two identical forms signed and completed by all parties.