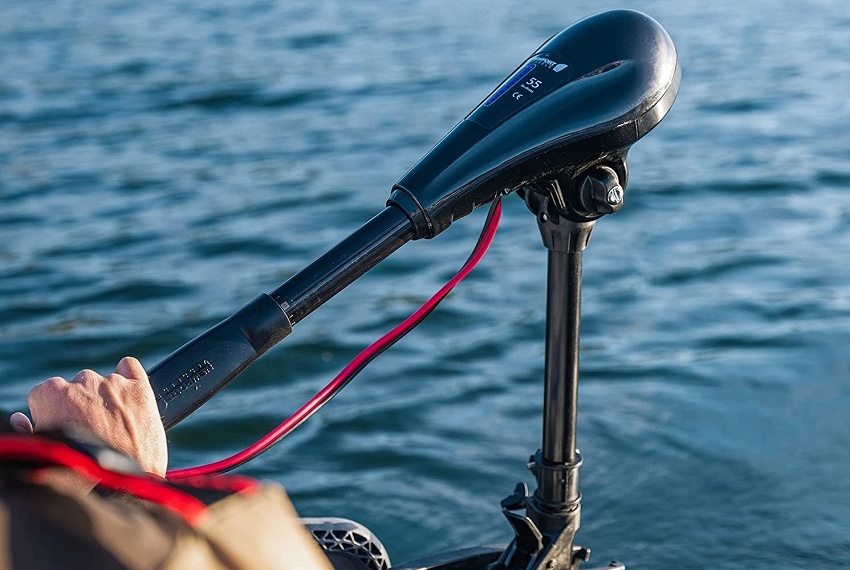 When your canoe is fully loaded up for fishing or hunting, paddling it can be an exhausting experience. Sure, you can paddle yourself to your favorite spot, but once you get there, you want to be able to fish straight away, not sit and recover. With a trolling motor, the hard work is taken away from you, so you get more time fishing and less time paddling.
With so many different trolling motors to choose from, it can be hard to know where to start. Should you go with a small gas outboard motor or an electric trolling motor? Should you mount your motor at the bow or the stern of your canoe? What about thrust, shaft length, and power?
Our canoe trolling motor guide will help you pick the right motor for your canoe so you can cruise to those fishing spots.
Got a kayak, not a canoe? Check out our kayak trolling motor guide here.
At a Glance: Best Trolling Motors for Canoe:
Newport Vessels X-Series
Watersnake T18 ASP
Minn Kota Endura C2
Newport Vessels L-Series Saltwater
Why Use a Trolling Motor on a Canoe?
Canoe trolling motors are mainly used by anglers and hunters. The reasons for this are twofold. Firstly, they tend to have the heaviest canoes, meaning they are the hardest and most tiring to paddle. Secondly, their purpose out on the water is the destination, not the journey.
That may sound a little overly poetic, but if you're out on a trip, or a day with your family, you're there in part to enjoy the paddling itself. Sure, you could fit a trolling motor and effortlessly cruise to a picnic spot instead of paddling there, but it's not likely you're going to want to.
Benefits of a Trolling Motor on Canoes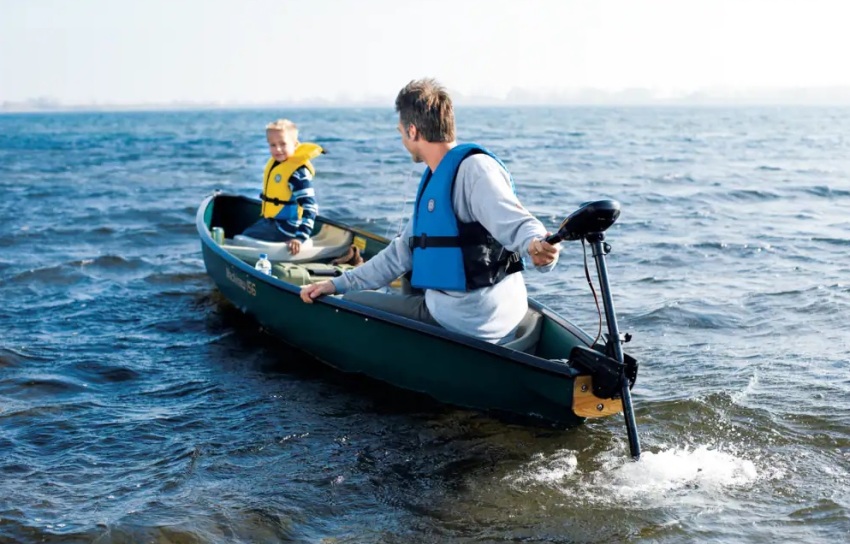 Having a trolling motor mounted on your canoe gives you a number of advantages:
You can (obviously) troll for fish. Trolling is not for everybody (some anglers hate it), but if that's your thing, a trolling motor lets you do it.
You can reach your fishing spot faster and with more energy, ready to fish. This is especially useful if you're out for long days, carrying heavy loads, or would otherwise be paddling into a headwind.
You can hold your canoe in position once you reach your spot. A bow-mounted trolling motor can act as an anchor and prevent the wind or current from dragging your boat away from your spot. Bow-mounted motors are preferable because they keep the boat directly into the wind, but also stay clear of fishing lines.
Drawbacks to a Trolling Motor
As with any canoe accessory, trolling motors don't come cheap. You not only need the motor, but a mount and a battery, as well as battery protection. All of this can easily cost several hundred dollars or more.
They're not light, either. In fact, a full set up of motor, mount, and battery can easily weigh over 50 lbs. You will need a stable canoe in order to mount a trolling motor, especially if you're going for a side mount. Otherwise, you will find yourself having to lean far over the other way to provide ballast.
Finally, you might feel as though you're getting away from the essence of canoeing. This isn't an issue as such, but for many people, canoeing is about peaceful tranquility, about using the paddle. A trolling motor is a personal choice and if they're not for you, that's fine.
Choosing a Trolling Motor for your Canoe: Features to look for
Thrust
The majority of canoe trolling motors are electric, rather than gas-powered. The output of an electric motor is measured in pounds of thrust rather than horsepower. Measuring this thrust is not performed in a uniform or standardized manner though, so engines with the same thrust rating may vary slightly.
It's unlikely that you will need a motor that provides more than 50 – 55 lbs. of thrust. You might think that more thrust will equal more speed, but every canoe's top speed is dictated by its length, not how hard you can power it. Any more than 55 lbs. of thrust and you're not gaining a great deal compared to the extra weight you'll be hauling.
Voltage and Battery
Electric trolling motors require a battery, which can easily cost more than the motor itself. You'll see that there are 12-Volt, 24-Volt, and 36-Volt motors. 12 Volts is all you need for a canoe.
Read more: Planning a wisconsin river canoe trip
What Battery Do I Need for a Trolling Motor?
While you could use a car battery to power your trolling motor, that battery will not last long. Lead-acid car batteries are designed to provide short surges of power, not continuous power, and they don't like to be fully discharged (read more about battery sulfation here).
The best way to go is either a so-called "deep cycle" lead-acid battery (their main disadvantage is their heavy weight) or a modern LiFePO4 lithium battery, which will be lighter but more expensive.
In terms of capacity, aim for at least 50 Amp-hours (Ah). If you plan to spend long days on the water, 100 Ah or even more is the way to go.
Remember that a 55 lbs electric motor can consume about 50 Amps at full speed, which means a 50 Ah battery will only last an hour (or less if it's a car battery).
Shaft Length
In order to have the most efficient system, your propeller should be between 10 – 12 inches underwater. This ensures a reasonable clearance from underwater obstacles but also gives a good level of propulsion. Measure the depth of your canoe from the transom to the ground to ensure your motor will sit deep enough in the water.
Weight
The weight of your trolling motor is added to the overall weight of your canoeing setup. This means that it counts towards your capacity, along with any paddlers and all of their equipment. Remember to stay within 70% of your canoe's maximum capacity for optimal performance.
If you do not have a square stern canoe, your motor mount will hold your trolling motor off to one side. Heavier motors are liable to unbalance you in your canoe and you may have to use your bodyweight as ballast to hold your canoe level. If you're going to side mount your motor, a lightweight model will make your ride more comfortable.
Mount Style
If you paddle a square stern canoe, you probably already have a transom mount ready fitted to attach your motor. If you paddle a more traditional-looking canoe, you may have to use a canoe motor mount to mount your canoe trolling motor.
There are two main types of motor mounts; standard and side mounts. A standard style mount uses a crossbeam at the rear of the canoe and mounts the motor off to one side, keeping your motor behind you. These are suited to longer journeys and heavier trolling motors.
Side mounts clamp onto the gunwales at whatever point you choose to fit them. These are more likely to unbalance you as the mount does not span both gunwales. These mounts can be used to easily move your motor to the bow of the canoe to keep it clear of fishing lines and hold you in position.
Read more about the types of canoe motor mounts and their use here.
Saltwater vs. Freshwater
Are you a freshwater angler or do you spend your days out on the sea? Because saltwater corrodes engines more quickly than freshwater, saltwater engines have a higher level of protection against this corrosion. This tends to come with a higher price tag and often a little more weight, so if you are sticking to freshwater, you might want to avoid saltwater engines.
The Best Trolling Motors for Canoes
Newport Vessels X-Series
Weight: 20 lbs. / 9 kgThrust: 40 lbs. / 55 lbs. Shaft Length: Adjustable 36 in.
Read more: Field and stream scout canoe
The Newport Vessels X-Series features a telescopic tiller handle and 30-degree tilting head, making this motor one of the most versatile options on the market. Whether you fit it higher than normal or in a different location, you still get the bonus of comfortable tiller control and easy use. The adjustable shaft gives you full freedom over how deep you sit your propellor.
The Newport Vessels X-Series has eight speeds; five forward and three reverse. This gives the X-Series a top speed of around 4 miles per hour, more than enough for a reasonable trolling speed.
This motor is designed to be run all day, using a 12-volt deep cycle battery. Not only that, but the high-quality components fitted by Newport Vessels keep this motor ticking over quietly, so you won't spook the fish.
Pros:
Telescopic and tilting tiller
Adjustable shaft length
Eight-speed
Cons:
The Head and handle aren't fully waterproof and are only designed for use in light rain
Watersnake T18 ASP
Weight: 4.85 lbs. / 2.2 kgThrust: 18 lbs. / 24 lbs.Shaft Length: 24 in.
The Watersnake T18 ASP is the ultimate in a lightweight design, weighing in at just 4.85 lbs. Mount this motor anywhere along the side of your canoe and cruise along with minimal counterbalancing required. This also makes the Watersnake T18 ASP a useful option to carry with you as a trolling option if you prefer to paddle.
This lightweight model has a smaller shaft than most on this list, at just 24 inches. This may limit the use on some higher-sided canoes, but should still allow you a reasonable propellor depth.
The two thrust options of 18 lbs. and 24 lbs. reflect the lightweight design of this motor, but still provide reasonable speeds across the water. This motor has two forward and one reverse gear and is fitted with an easy-to-use tiller, as well as an extendable handle.
Pros:
Extremely lightweight
Three speed
Adjustable height
Cons:
Mountain brackets are flimsy
Short shaft
Minn Kota Endura C2
Weight: 26 lbs. / 11.8 kgThrust: 30 lbs. / 40 lbs. / 45 lbs. / 50 lbs. / 55 lbs. Shaft Length: 36 in.
The solid durability of the Minn Kota Endura C2 lets you cruise along with peace of mind, knowing that you're not going to need to replace your motor at the end of the day. It will comfortably last all day, too. The five forward and two reverse speeds let you control exactly how fast you go and how much power you use, so you aren't wasting any battery life.
A ten-position mount gives you a full range of adjustment to suit the depth of water and avoid any underwater obstacles. If you do collide with anything, the mount breaks away on contact to avoid breaking. Resetting the motor is straightforward and doesn't impact your day.
Read more: How to transport a canoe
Controlling this motor is easy and comfortable with the six-inch adjustable tiller handle, so you don't need to move from your canoe seat. The Minn Kota Endura C2 is available in a whole range of thrust outputs, from thirty to fifty-five. These all come with an associated weight and this isn't the lightest engine on the market, best suited to stern mounting on a square stern canoe.
Pros:
Heavy duty durability
Breakaway on impact
Raise and lower the motor easily
Cons:
Newport Vessels L-Series Saltwater
Weight: 23 lbs. / 10.4 kgThrust: 62 lbs. Shaft Length: 40 in.
The Newport Vessels L-Series Saltwater is designed for serious canoe anglers who are looking to take their adventure out onto the sea. This durable, saltwater-ready trolling motor provides an enormous 62 lbs. of thrust, more than enough to power you through rolling waves and chop.
With five forward and three reverse speeds, you can adjust the motor to suit your environment and needs. The higher thrust of this motor does mean it requires a larger battery and Newport Vessels recommends a battery capable of putting out 50 aH.
The 40-inch shaft lets you get your propellor deep in the water, for use in environments where underwater obstacles aren't a concern. The adjustable collar lets you raise and lower your motor, although the lack of tilt on the head may make this uncomfortable. You can keep the motor within easy reach with the 6-inch adjustable tiller.
Pros:
Saltwater ready
Higher output
Long shaft
Cons:
Expensive
Heavy
Requires a higher output battery
FAQ
Which battery is the best for a canoe trolling motor?
Getting the right battery for your trolling motor is crucial. It follows logically that the more thrust your motor provides, the higher voltage your battery will need to put out. Most motors under 55 lbs. output can use a single 12-volt battery. Anything with a higher output may require a larger battery, or two batteries conjoined.
There is a little more to batteries than just voltage though, including weight, size, and amp-hours. For a full rundown of batteries, check out our trolling motor battery guide.
Do I need to register a canoe with a trolling motor?
Yes. A canoe with a trolling motor is classified as a motorized boat and requires registration.
Will a bigger motor make my canoe go faster?
A bigger motor will increase the top speed of your canoe, but only to a point. The top speed of a canoe is limited more by length than it is by motors. Also, the weight of more powerful motors limit their effectiveness and impact the drag and balance of a canoe.
Motors of around 55 lbs. thrust are a good balance of weight and power and should allow your canoe to cruise at around 4 mph.