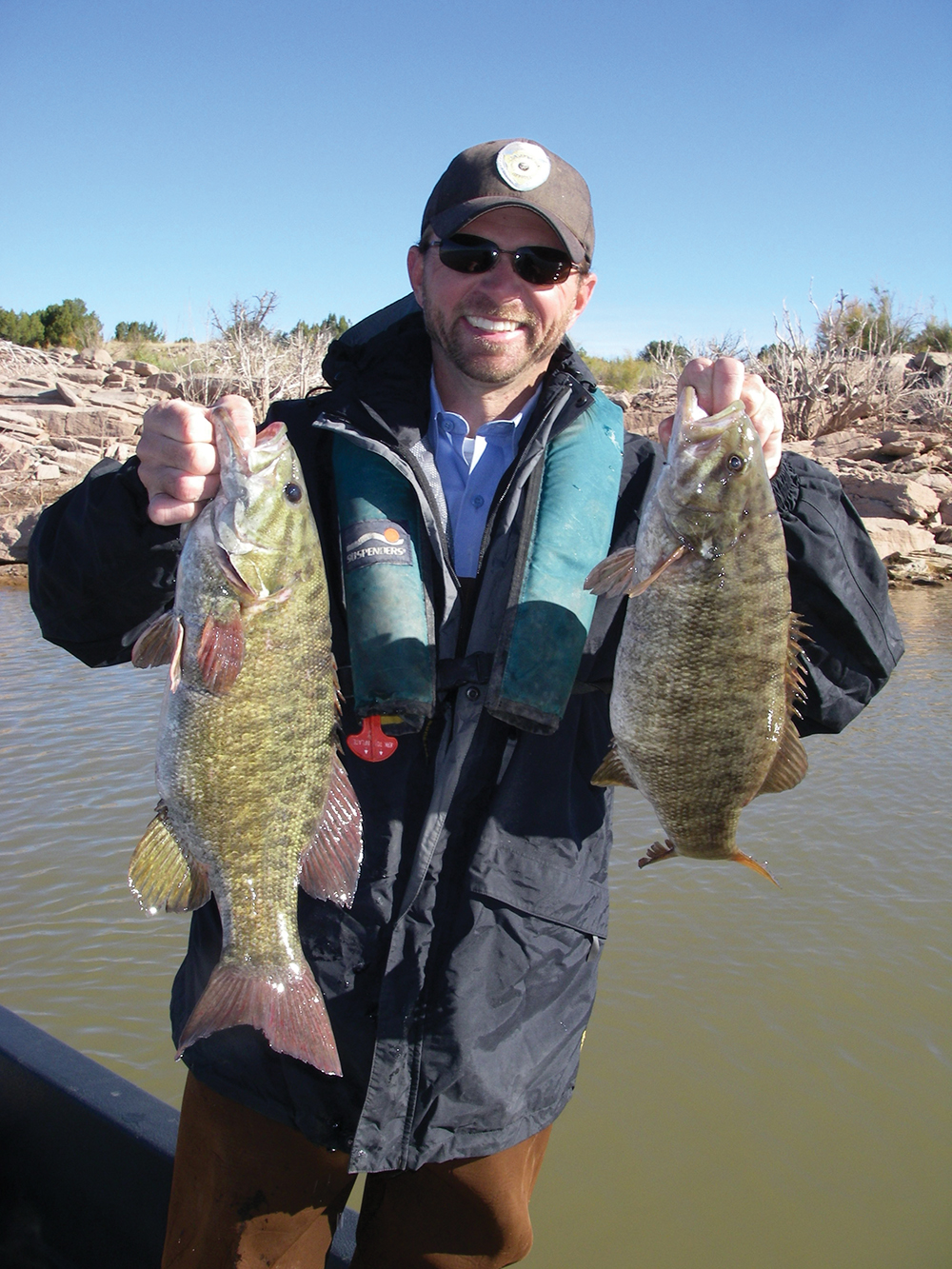 Bass fishing is a beloved pastime in America, and it's not hard to see why. Black bass, known for their aggression and insatiable appetites, can be found in lakes across the country. While the Midwest and Southeast are often associated with bass fishing, the lakes of the southwestern United States are also home to these prized game fish. In particular, New Mexico offers some excellent bass fishing opportunities that are not to be missed.
The Thrill of Bass Fishing in March
As winter gives way to spring, the transition in water temperatures ignites the appetites of bass in the southwest lakes. This is the ideal time for bass fishing enthusiasts. According to Brian Senick, a guide from Hookup Outfitters, March is a period of excitement as bass begin to move into shallower waters, scouting for suitable spawning locations. The spawn itself can last for weeks, providing ample opportunities for anglers. It's truly an exhilarating time to be bass fishing in New Mexico.
During the pre-spawn phase, fish tend to stage on primary points. It's a great time to use jerkbaits, lipless crankbaits, and jigs. Expert anglers recommend occasionally letting the suspending jerkbaits rest for up to 30 seconds, while maintaining a continuous movement at other times. Lipless crankbaits are best used with a fast pace, while jigs are more effective when worked slowly. As the spawn progresses, you can continue using the same lures along with spinnerbaits, just with a slightly faster retrieval.
Once the fish are on their beds, soft plastic baits like crayfish, lizards, and jigs continue to be effective choices. Sight-fishing bedded fish involves placing the bait on the bed and adjusting your approach based on the fish's reaction, attempting to provoke a strike. After the spawn, when the fish move off the beds into post-spawn mode, topwater baits become highly successful. Additionally, jerkbaits, crankbaits, spinnerbaits, and jigs remain reliable options. Popular colors during this time include those that imitate crayfish and shad.
The Top Bass Destinations in New Mexico
While the best bass fishing destinations are subject to debate, the suggestions below represent what some bass experts and officials from the New Mexico Game and Fish Department consider to be the top spots in the state.
Conchas Lake State Park
Located on the Canadian River, about 30 miles northwest of Tucumcari, Conchas Lake is a haven for smallmouth bass. With approximately 70 miles of shoreline consisting of canyon walls, beaches, and numerous coves, this lake provides plenty of variety for anglers. Although primarily a smallmouth fishery, you can expect to catch a lot of average-sized bass here. Look for fish in typical smallmouth habitats like rocky points, cliff walls, underwater rockpiles, and ledges. The bass feed on gizzard shad, sunfish, and crayfish. Eric Frey, the Sport Fish Program manager at the NM Game and Fish Department, suggests exploring the flooded juniper and cobble shoreline on the western shore just northwest of the marina, as well as the gravel bar points extending into the Canadian Arm water.
Elephant Butte Lake State Park
Elephant Butte Reservoir, located on the Rio Grande, offers excellent bass fishing opportunities just 5 miles northeast of Truth or Consequences. The reservoir consists of two basins joined by a narrow, 4-mile canyon. The upper lake is shallow with flooded brush and cedar, while the lower lake is deeper with some shallow coves and brush-covered points. Bass in this lake feast on threadfin and gizzard shad. Shore fishermen will find plenty of access, particularly around the Rock Canyon Marina. Largemouth bass can be found throughout the reservoir, while smallmouth bass are more common in the deeper lower basin. Richard McDonald, the public affairs officer at the NM Game and Fish Department, recommends exploring the north end near the marina, as well as the beach area and aquatic vegetation in McCrae Canyon. On the southeast side of the lake, the Jungles area, with its rocky coves and points, is worth exploring.
Navajo Lake State Park
Navajo Lake is renowned for producing the state-record smallmouth bass, with the weight approaching the 7-pound mark. This lake is a smallmouth angler's paradise. Its scenic landscape features big canyons and steep shorelines, limiting shore access. Although smallmouth bass are the primary species, there are also some largemouth bass present. Smallmouth are distributed throughout the lake, while largemouth are more common in the shallower areas around the rockslides on the upper end. Exploring rocky points in the canyons and coves up in the San Juan Arm, such as La Jara Canyon, Francis Canyon, and the Pine Arm, is highly recommended.
Ute Lake State Park
Ute Lake, located about 30 miles northeast of Tucumcari, offers excellent shore fishing access and several public-access areas. The lake's solid forage base of sunfish and crayfish has contributed to the prosperity of smallmouth bass. Several small canyons and coves on the main lake west of Ute Creek are worth exploring. Canyons that extend into rocky points provide ample hiding spots for fish. Anglers should pay attention to the Ute Creek entry area, which is shallower and warms earlier, making it an ideal pre-spawn staging area. On the north side of the dam, anglers can find big smallmouth bass hiding among the gravel flats that drop off into deep water. Ute Lake is also an excellent choice for anglers hoping to catch quality largemouth bass, as the lake's fertility and high growth rates produce some impressive specimens.
Remember to share your best bass photos on Camera Corner for a chance to win free gear! And for all your bass fishing needs, check out East Coast Paddle Sports – your go-to shop for all things bass fishing in New Mexico.
Note: The information provided is based on the insights and expertise of experienced anglers and officials from the New Mexico Game and Fish Department. Fishing conditions and regulations may vary, so it's always recommended to check local guidelines before planning your fishing trip.