Overnight raft trips are the best way to disconnect from the stresses of daily life and take a break from technology. These trips will allow you to immerse yourself in nature and enjoy the restorative qualities of that connection. Whether you are looking to connect with family young and old or experience a thrilling journey, we have the perfect trip for you.
24 HOURS OR 3 DAYS ON THE UPPER COLORADO RIVER
Location: Near Kremmling, Colorado
Level: Class II-III, mild
Length: 24 hours – 3 days
The upper Colorado river is the perfect destination for your first overnight rafting adventure. It is ideal for families with children as young as five and those with adventurous grandparents. This trip has something for everyone in your group. You will be able to take in the natural beauty that only the Colorado River can offer. Highlights of this trip include natural hot springs, historic cabins, scenic waterfalls and steep canyon walls.
There is time for plenty of stops to explore and at camp you will have no shortage of fun whether you decide to hike, fish or just relax by the river.
On this trip you leave everything in the hands of professionals, who cook, guide, and can be a great resource when learning about the historic canyon. Wetsuits and splash jackets are provided to keep you comfortable on the river and tents and sleeping pads to help you get a great night's rest. Sleeping bags are also available for rent.
Read more: Dog water raft
Dinner and breakfast will be prepared for you and our guides will give you time to try inflatable kayaks and learn how to paddleboard. Don't forget to make some s'mores and enjoy the stars before settling in for the night.
Rafting the upper Colorado river is the perfect introduction to overnight rafting. It will give you time to connect with nature and family and leave you wishing it was two or more nights!
24 HOURS IN BROWNS CANYON ON THE ARKANSAS RIVER
Location: Near Buena Vista, Colorado
Level: Class III, mild and exciting
Length: 24 hours
Browns Canyon is one of the most historic and beautiful canyons in Colorado. It is known for fishing and hiking and is the most popular destination for white water rafting in the country. Browns Canyon is the perfect spot for adventure and family fun. It offers awe-inspiring views of the Arkansas River Valley and Sawatch Range of the Rocky Mountains with make your trip truly unforgettable.
An overnight in Browns Canyon is perfect for families with children age 7 and up looking for scenic beauty and the thrills of class III whitewater.
On this spectacular adventure, you will camp in the heart of Browns canyon. All your needs will be taken care of by our amazing staff giving you plenty of time to enjoy the canyon while hiking, fishing or relaxing riverside. Enjoy stories and s'mores by the fire before calling it a night and don't forget to look up and the amazing stars on display. For those looking to enhance their connection with nature, feel free to sleep out under the stars.
Read more: River fishing rafts
With out experienced and professional team, 22 miles on the river is going to feel like a dream. Browns Canyon is ideal for an adventurous family overnight river trip. Come create lifelong memories on the river with us!
3 DAYS MILD TO WILD OVERNIGHT
Sections: Pine Creek, the Numbers, Narrows and Browns
Location: Near Buena Vista, Colorado
Level: Class III – IV, physical exertion required
Length: 24 hours – 3 days
The numbers is an action packed stretch of the Arkansas River. It is the perfect spot for thrill seekers at age 15 and up. On our Mild to Wild three-day adventure, you start above Browns canyon working your way through class III rapids and enjoying the natural splendor. Your first day will find you lunching riverside and camping in the heart of Browns. Your guides will take the stress out of your trip by preparing your meals, keeping you safe, and facilitating your unforgettable experience.
Day two you will tackle some of the biggest rapids in Browns Canyon. After lunch, you will jump into inflatable kayaks to paddle to the takeout. From there you will be shuttled downstream to camp before going rock climbing in the Granite Gorge. Another delicious dinner and night under the stars will cap of this fun filled day.
Day three is when the excitement really starts. After a hearty breakfast, you will gear up and rappel into Granite Gorge to meet your rafts. From here you will face the Gauntlet! Take on call IV and V rapids in Pine Creek and the Numbers. Here you will find narrow channels, steep drops, and technical maneuvering through boulder-strewn canyons and gorgeous valleys. Don't forget to look up at the picturesque views of the Collegiate Peaks in the distance. Your adventure ends with a hot riverside lunch before heading back to the outpost. This 3 day mild to wild adventure is calling your name!
Read more: Small dog pool rafts
The Mild to Wild trip combines the best of everything rafting has to offer. You will experience the thrill of class IV and V whitewater, the beauty and history of Colorado's canyons, and the joy of connecting with nature.
2 DAY ADVANCED RAFTING TRIP
Sections: The Numbers, The Narrows, and Browns Canyon
Location: Near Buena Vista, Colorado
Level: Class III-IV
Length: 24 hours – 3 days
Our two-day advanced trip is perfect for thrill seekers 15 years and older. Numbers and Narrows offer technical class III-IV whitewater in beautiful Granite Gorge. After a big first day, we will camp above Browns Canyon where you can enjoy a number of riverside activities. Your night under the stars would not be complete without stories and s'mores at the campfire. Wake up to morning coffee and a hot breakfast before heading into Browns Canyon. Here you will face class III rapids ending with Seidel's Suckhole and Twin Falls. On this two-day adventures, you will cover 40 miles of world class whitewater.
This trip includes all the best rafting Buena Vista has to offer. You will experience all the fun of beautiful and continuous whitewater in two incredible Colorado canyons. The spectacular views and epic whitewater will make you wish this trip was longer! We hope you will be excited to try another one of our multi-day adventures.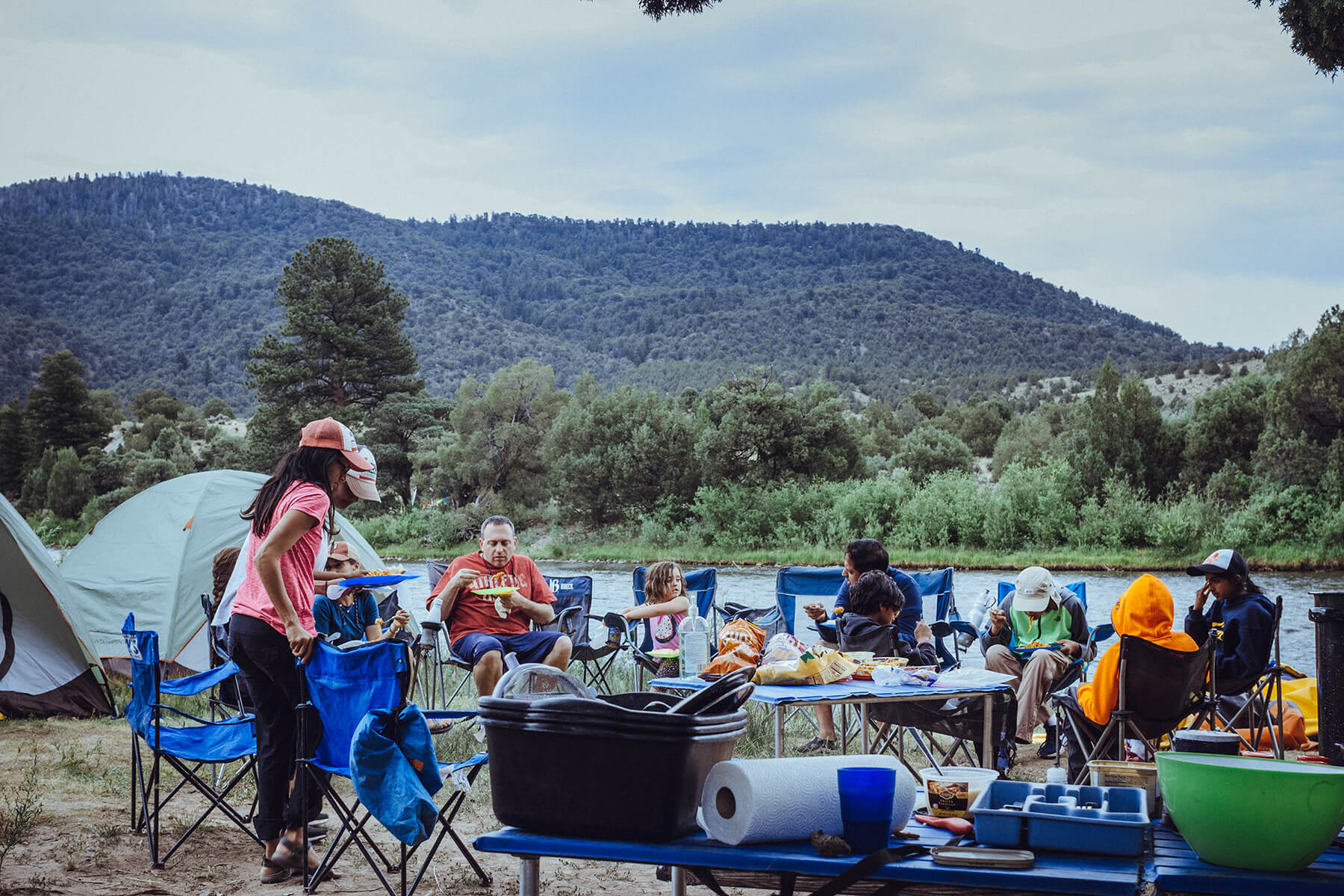 Overnight rafting trips with AVA are perfect for experienced rafters and those first-time adventurers looking for something new. Our highly trained staff takes the stress out of planning and organizing leaving more time for fun and relaxation. We have trips for all ages and difficulty levels.