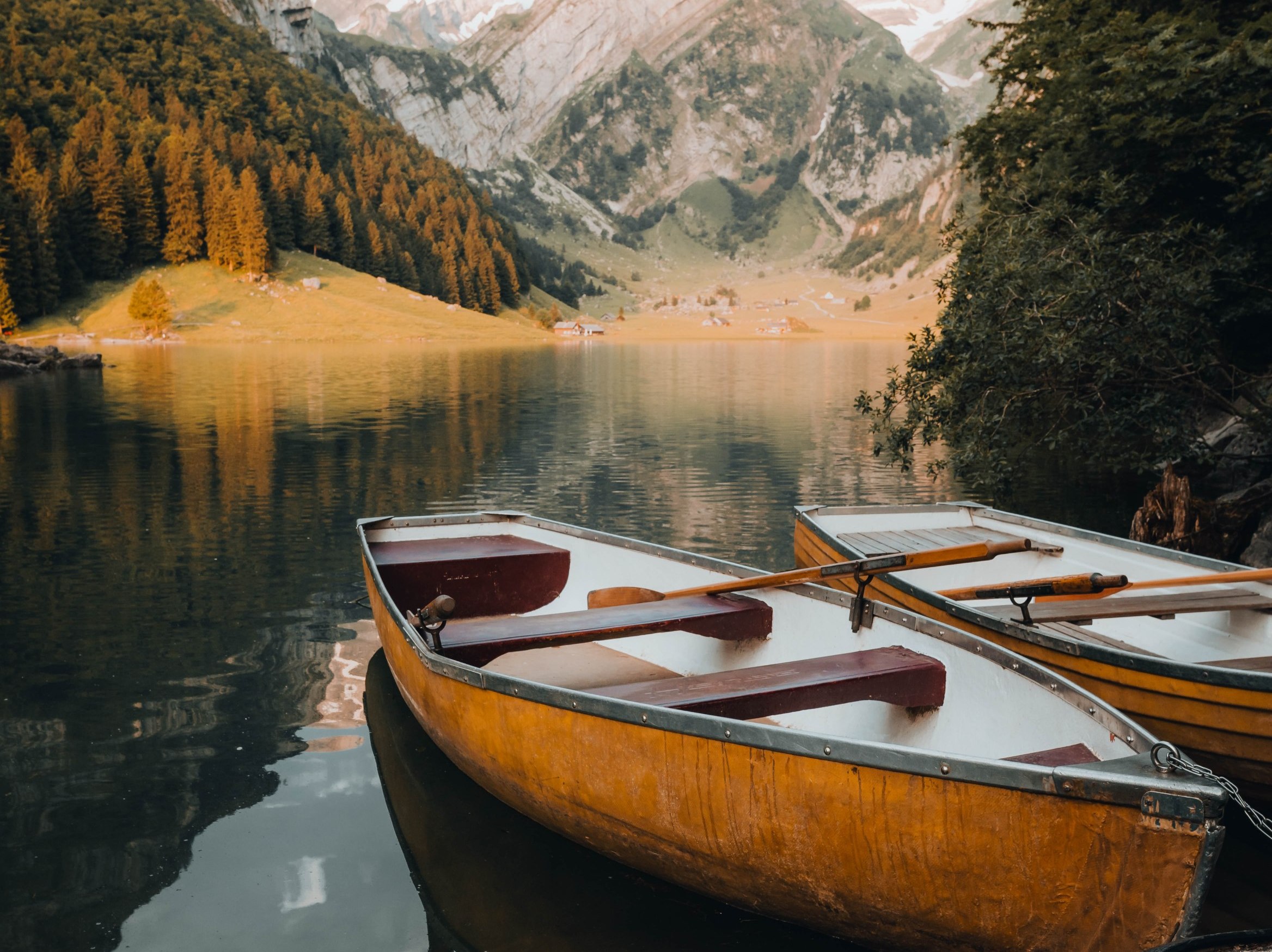 Square stern canoes look like a crossover between a rowing boat and a canoe. The flattened backs of these canoes are designed to be motor-ready, so you can cruise effortlessly across the water. This, coupled with the stability and load-bearing capabilities of square stern canoes, makes them popular among anglers and duck hunters.
The Best Square Stern Canoes At a Glance
Best All-Around: Old Town Discovery Sport 15
Best Lightweight: Esquif Mallard
Best Aluminum: Waterstream X-13 Wide Transom Canoe
Best for Paddling: Sun Dolphin Mackinaw SS
Comparison Table: Best Square Stern Canoes
What are the Main Benefits of a Square Stern Canoe?
Motor Compatible
When you're fully loaded up for a day of fishing or duck hunting, you might struggle to propel your canoe just using your own strength. Square backed canoes are specifically designed for mounting motors at the rear. These motors can range from low-powered, lightweight, electric motors, all the way to heavier and powerful gas outboards.
With the right motor mount, you can attach a trolling motor to most canoes. You can even attach some side-mounted trolling motors to just about any canoe on the market, so long as you're stable enough. But if you're going to be using a motor all the time, it's best to buy a canoe specifically designed for motor mounting.
Stability
Square stern canoes are among the widest canoes on the market. This can increase drag, but with a motor mounted on the rear, you won't feel the effects. The extra width prevents you from capsizing and flooding your motor and allows you to cruise and make tight turns without feeling unstable.
As these canoes are designed for duck hunters and anglers, increased stability is highly important. Anglers want to be able to stand to cast and get a greater command of the water, while duck hunters need to know that the recoil of their shot isn't about to send them overboard.
Capacity
All that extra width gives square stern canoes a higher load capacity than most canoes. This is great news if you're an angler or hunter who likes to haul a load of equipment with them, or who brings back far more than you take out. It also makes these canoes suitable and stable for larger adults.
Remember that your paddling weight in a square stern canoe not only includes you and your equipment but also the motor. In order to stay within the optimal performance capacity for your canoe, you should avoid overloading more than 70% of the stated capacity. This means that if your canoe has a capacity of 400 lbs., you should load no more than 280 lbs.
Where can you paddle a Square Stern Canoe?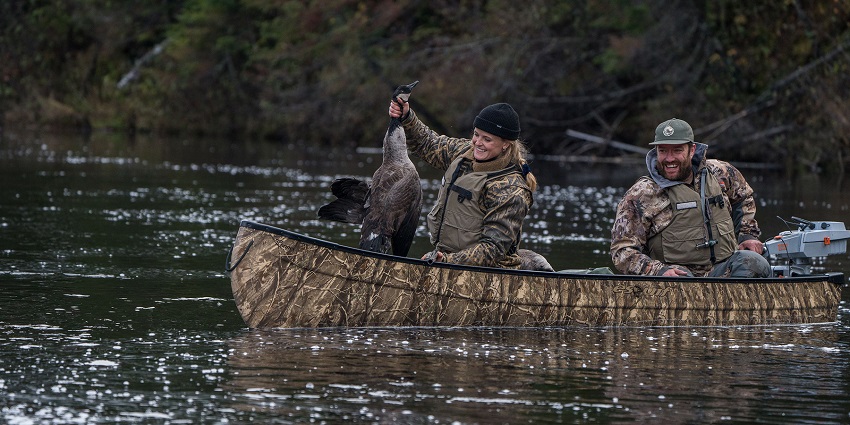 Square stern canoes are generally best suited to calm, recreational waters. In truth, you're likely to be using them for angling or duck hunting, in which case you won't be heading out onto raging rivers or breaking surf. With the right motor, you can cruise around large lakes all day, but if you're using a traditional paddle you may struggle to cover great distances.
Drawbacks of a Square Stern Canoe
Lack of Tracking
When you square off the stern of a canoe, you reduce the boat's tracking capabilities. The squared section is given a fatter underside in order to maintain stability. In turn, this removes a section of the keel line that would otherwise have a skeg-like effect on the canoe.
Square stern canoe design does vary, but often they come with a reasonable level of bow rocker. This bow riser allows the canoe to skip over the water and ride over lumps and bumps, especially when motor-driven. Without it, your canoe would dig into the water and risk veering and potentially capsizing.
Read more: 20 foot square stern canoe
Combined, these two hull changes have an impact on the waterline of the canoe. Not only is it limited, but there is little grip from an area where the hull has a sharp v-shape, the area usually relied on for tracking. Due to this, paddling these canoes into, or across the wind without a motor is challenging even in mild conditions.
Wide and hard to Paddle
Wider canoes are slower across the water. The extra drag caused by the wide, flat hull limits the top speed. Coupled with the lack of tracking capabilities, these canoes are not designed to cover any great distances without the aid of a motor.
Extra wide canoes do have the added bonus that they can turn quickly, compared with narrower models that glide in wider arcs. But these wide canoes aren't designed for paddling, especially with any real finesse. You can power these as a pair, but tight turns and delicate strokes won't have the same effect as they might on your other recreational canoes.
Heavy
These canoes are designed to be strong enough to carry a load of equipment and have extra structural support on the rear for a motor. They are also wide and stable. All of this extra material doesn't come without the extra bulk and square stern canoes are among the heaviest canoes on the market.
In fact, these canoes can often top 100 lbs., making it unlikely that you're going to be carloading them on your own. You're going to require a canoe trolley to get your square stern canoe from the parking lot down to the water, especially if you want to move it and all of your gear in one trip.
Who should use a Square Stern Canoe?
The main reason to own a square stern canoe is the motor compatibility. Sure, there are other benefits to these canoes too, but the others can be found in alternative shapes that don't have some of the drawbacks of a square stern canoe. If you're not going to use a motor, you're unlikely to use a square stern canoe.
For this reason, the majority of the time these canoes are used by anglers and hunters who benefit from the stability and extra space. Families, beginners, and larger adults can all benefit from the stability as well, but there are other recreational canoes on the market that offer high capacity and great stability. If you're going to head out with a motor on your canoe, a square stern canoe is your best choice.
The Best Square Stern Canoes
Best All-Around: Old Town Discovery Sport 15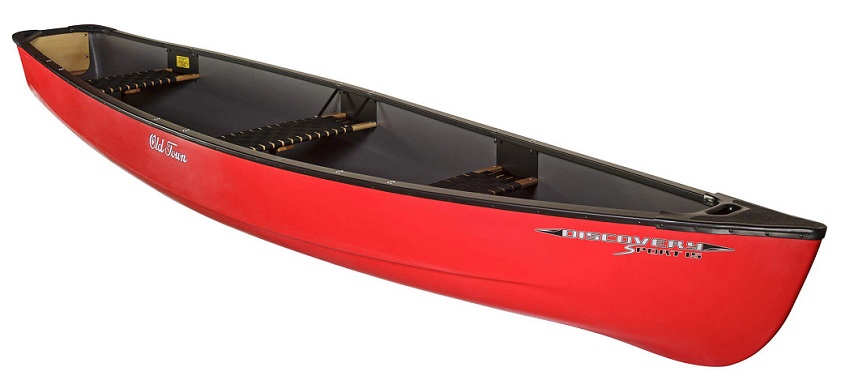 Length: 15 ft. 3 in. (4.6 m)Width: 40 in. (101.6 cm)Weight: 114 lbs. (51.7 kg)Capacity: 1650 lbs. (748.4 kg)Material: Three Layer Polyethylene HP Rating: 4
The Old Town Discovery Sport 15 is a four-person canoe that can be paddled, powered, or even rowed. This versatile craft is made from heavy-duty, three-layer polyethylene, designed to withstand regular use in varied conditions. The enormous capacity reduces to 800 lbs., when under power, but this is still enough for four adults.
That enormous onboard capacity makes the Discovery Sport 15 the ideal canoe for anglers and hunters. Even with multiple adults onboard, there's plenty of space to stow your equipment and move around. Standing to cast or to get a greater command of the water can be done with confidence.
Read more: Big canoe golf pro shop
At 15 ft. 3 in. long, the Discovery Sport 15 is the fastest out-and-out square stern canoe on this list. Couple this with the fact that this canoe can take up to a 4 horse-power motor and you'll be between spots in no time whatsoever.
Pros:
Capacity for a 4 HP motor
Huge onboard capacity
Wide and highly stable
Versatile
Cons:
Best Lightweight: Esquif Mallard

Length: 12 ft. (3.66 m)Width: 36 in. (91.5 cm)Weight: 59 lbs. (27 kg)Capacity: 600 lbs. (273 kg)Material: T-FormexHP Rating: 2 HP
The T-Formex build of the Esquif Mallard makes it an ideal lightweight option when you're in the market for a square stern canoe. This canoe is light enough to load up on your shoulders to carry to the water, or between bodies of water if you're out on a hunting trip. It even has a built-in carrying yoke for comfort.
The bow of the Esquif Mallard has a mid-level rocker profile at the bow. This allows it to cut through the water and retain its course relatively well, while the wide and flat hull toward the rear is stable enough for you to move around confidently. There is no onboard storage, but there is plenty of space for storing bags, crates, and coolers.
The Mallard is built for three paddlers, however with a weight capacity of just 600 lbs., you are often going to find yourself heading out solo, or with a partner. If you want a larger model of this boat, try the Esquif Mallard XL instead.
Pros:
Lightweight build for easy carrying and storage
Loads of onboard space
Webbed seating to keep your butt cool
Cons:
Low capacity
A shorter length limits the top speed
Best Aluminum: Waterstream X-13 Wide Transom Canoe
Length: 13 ft. (3.96 m)Width: 38 in. (96 cm) Weight: 72 lbs. (32.6 kg)Capacity: 555 lbs. (251.7 kg)Material: AluminumHP Rating: 2
Read more: Canoe island lodge for sale
Aluminum canoes may not be the most common material on the market anymore, but they are the most durable option out there and will outlast all other canoes. Because they can withstand UV damage, as well as anything else the elements can throw at them, you don't need to set up a special storage area for your canoe either.
The Waterstream X-13 Wide Transom Canoe is built for unparalleled stability. The entire canoe is lined with eathafoam, adding buoyancy so that no matter how much water you fill this thing with, it remains afloat. The addition of foam transoms on the sides keeps it stable so that you can easily climb back on board if you've gone for an unexpected swim.
Not that capsizing this canoe will be an easy task. The 38-inch beam width and flat hull make it easy to move around with confidence, ready to stand and cast or shoot from. As an added bonus, you can haul your catch on board without worrying about what it will do to your boat, too.
Pros:
Highly durable aluminum build
Extremely stable
Added floatation
Cons:
Aluminum canoes can be noisy and scare away game
Low capacity
Expensive
Best For Paddling: Sun Dolphin Mackinaw SS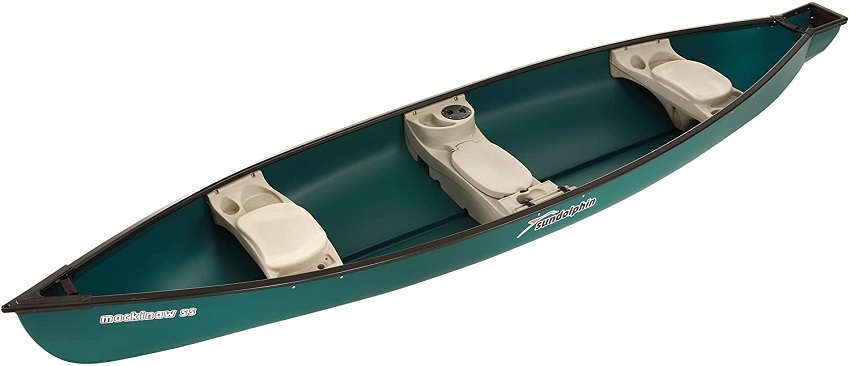 Length: 15 ft. 6 in. (4.72 m)Width: 42 in. (107 cm)Weight: 104 lbs. (47 kg)Capacity: 800 lbs. (363 kg)Material: High-Density PolyethyleneHP Rating: 2
The Sun Dolphin Mackinaw SS is the canoe on our list that most closely resembles your standard recreational canoe. The square stern on the Mackinaw SS is built to reduce its impact on the canoe's performance. The limited bow rocker and a reasonable keel line built into the hull allow you to paddle this canoe, as well as attach a motor to the rear.
The transom mount on the Mackinaw SS is designed for lighter electrical motors, but given the canoe's shape and dimensions, you wouldn't want anything too powerful on the back. The Mackinaw is long enough to carry a reasonable speed, though, and at 42 inches wide, more than stable enough to stand and cast.
With an upper capacity of 800 lbs., you can comfortably fit three adults on board, but if you're going to take a motor and a load of equipment you might be best to limit yourself to two. Underneath the seats, there is dry storage, as well as a cooler under the middle seat. Each seat is fitted with a beverage holder, so you can sit back and relax on the water.
Pros:
Can be used as a standard canoe
Long waterline for good top speed
Inbuilt cooler
Three seats
Cons:
The transom isn't designed for heavier motors
Heavy