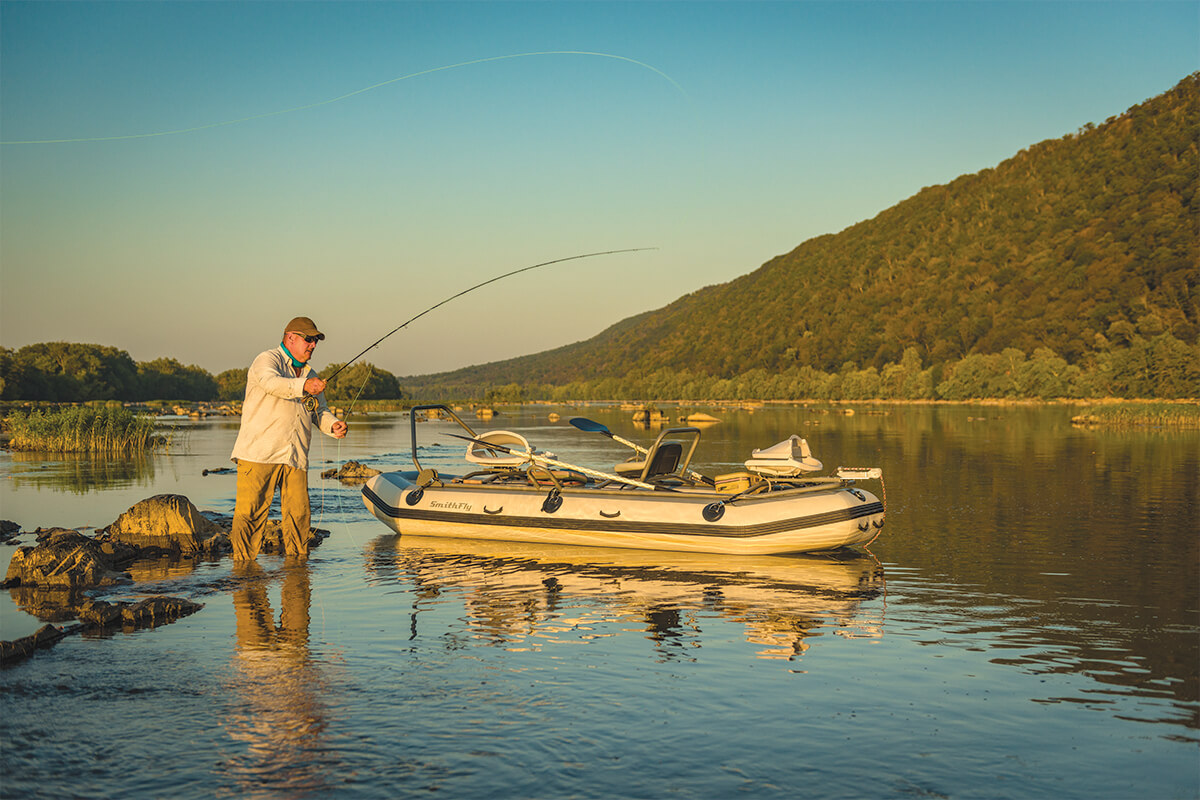 This article was originally titled "Micro Rafts" in the 2020 Gear Guide special publication of Fly Fisherman magazine.
Along with Euro Nymphing and Tenkara, narrow-profile, lightweight two- and three-person rafts are among the hot new trends in fly fishing. And just as Czech nymphing has offered anglers solutions for catching trout in waters previously unfishable, micro rafts have opened up fishing opportunities previously only dreamed of—and they offer big performance in a small package.
Because they are so easily transportable, and can be launched almost anywhere, every section of stream that you might have driven along and wondered about now becomes a possibility. "A lot of our streams don't have designated access areas," says George Daniel, owner of Livin' on the Fly, a guiding business in central Pennsylvania. "Two people can launch these boats with ease, and even carry them to the stream, so you have minimal impact on the land. It's important to pay attention to private property, but on public land, a lot of times I lift my boat over a guard rail to launch, which you just can't do with a full-size raft." Their light weight is also a boon for portages, and the compact design is ideal for navigating narrow chutes and tight water, or "creek-boating" brushy, narrow streams where you may not be fishing out of the boat, but using it as transportation between fishing spots.
This article isn't comprehensive, but it's meant to look at some of the available options on the market today and hopefully whet your appetite to test some of these on the water. It isn't an apples-to-apples comparison or review. Most manufacturers have boats for two and for three anglers, and there isn't space to feature all of them here. Second, just as one fly rod probably won't cover all your needs, there simply is no single perfect boat for all situations (which is why many end up owning several in a lifetime).
For your first boat, it is important to consider some of your basic needs and where you are fishing. Some of the main points of discussion that tend to come up when weighing the pros and cons of these craft center around number of anglers, frame construction, and whether the boat is self-bailing.
A boat that accommodates a rower and two anglers is likely heavier and more expensive than one that is designed for a rower and one angler. Most guides require a boat that will accommodate two anglers, but a smaller, more portable craft may be for you. Most of the boats here come with multi-piece frames, which have multiple advantages: lower shipping costs to consumer, ability to store small or ship to destination easily, and ability to replace a broken piece.
The SmithFly Big Shoals ships with a one-piece frame, which means it comes in a giant crate, by freight, and you can't exactly ship your boat off to float a remote river in Alaska. Some fly fishers don't require breaking down the frame, and prefer the slight advantage of a more responsive, rigid, one-piece frame.
Taking the true spirit of these micro rafts to a new level are the rack-and-pinion oar system and frameless option of a boat such as Scadden's Dragonfly. By jettisoning the frame altogether and using inflatable seats or even dry bags stuffed with gear, and the rack-and-pinion oar mounts attached to the side of the raft, you can tuck this boat into the trunk of a Camry, as packed baggage on a plane, or strap it to the side of a packhorse for a wilderness float. Outcast's Striker can also be used in this way, though the oarlocks slide into their PVC sleeves integrated into the side of the boat.
Self-bailing or not? A self-bailing boat has holes just below an inflatable floor that drain water out of the boat, whereas a non-self-bailing, or "bucket boat" does not and requires a pump or a bucket in the event it takes on water. Rigid, inflatable floors have changed the way these rafts function. "The floor keeps the boat rigid and enhances performance dramatically in every category, yet still allows for self-bailing," says Dave Scadden. "Old self-bailing systems did not have this rigidity and really hindered the performance of a raft, not to mention the fact that they were near impossible to stand and sight fish."
Read more: Summit county rafting
Ben Scribner at FlyCraft says they tested the self-bailing options for the Stealth and felt that the holes in the bottom of the boat compromised draft and maneuverability, and it is true that many old-time river runners agree that self-bailing boats drag more and also can get caught on rocks easier. (They provide a bail pump with those boats, and FlyCraft's new three-man boat is self-bailing.)
On the other hand, river veteran Dave Scadden always recommends a self-bailing boat. He points out that there are too many safety issues with taking on water from high waves (whether on a river or still water, when the wind can pick up). Plus, a boat that isn't self-bailing can fill up with rain water, and draining it adds another step to a trip that already met with bad weather.
This new generation of small rafts also draw very little water, in some cases only three or four inches. This dramatically increases your fishing opportunities, keeping you in the game throughout the low-water season. Virginia smallmouth, trout, and muskie guide Blane Chocklett loves these boats because they allow him to navigate changing water conditions, keeping his clients on the water and into fish. "For the last five years, we have had extreme weather, which has made guiding a challenge. In the SmithFly that I currently am using, I can fish smaller creeks when we have lots of rain and the bigger rivers are blown out, and I can fish small creeks and larger rivers longer through the season when they drop too low to float in a hard boat. This season we are in a drought, and I have been relying on my small raft to float sections of river that I might have been able to float in my drift boat with average water flows. Without this boat, we wouldn't be fishing."
And these rafts are not just for moving waters. Colorado guide Landon Mayer uses his FlyCraft when the Callibaetis hatch is on his local stillwaters. Stalking reservoir shallows for cruising fish allows him to fish while the rivers are experiencing runoff, or offer his clients a solitary experience when the rivers are crowded. Mayer loads the lightweight boat in the back of his truck and puts it in far from the public launches. He uses a trolling motor to get to the fish.
One of the magical things about fishing from a raft or drift boat is that rowing is often as much fun as fishing. When both are done well, the boat as a whole nets more fish at the end of the day than if only one angler tried to fish and steer at the same time. While you are not fishing 100% of the time, the time that you are fishing is so much more effective, especially so when a competent rower and angler work as a team. The whole becomes greater than the sum of its parts.
Small-Raft Accessories for Fly Fishing
Once you decide on your fishing platform, a few accessories can go a long way to making your day on the water more comfortable, and more successful. Guide Blane Chocklett says, "with good organization, these boats can seem a lot bigger than they are." Chocklett outfits his boat with 8 1/2′ Sawyer DyneLite Shoal Cut Oars; a Yeti Tundra 45 in lieu of a front seat that does triple service as a seat, standing platform, and dry storage; a Yeti Hopper cooler; and the new Yeti Loadout GoBox 30 for dry storage under the rower's seat. When needed, Yeti Sidekick dry bags wrapped around the raft frame provide modular dry storage for sundries such as keys, wallet, and license. On longer trips a Panga 75, which is Yeti's fully submersible dry bag, tucked away in back is perfect for spare clothes and other items that you need to keep organized and dry. Your layout may vary depending on your needs; the point is that the cleaner you keep these boats, the more of a pleasure they are to fish from—and that is true of all watercraft.
All of these raft brands have a complete line of accessories available, including motor mounts, but it's important to compare when you buy to see what accessories are included in the base price of the package. Many manufacturers offer specials, either on the web or at fishing shows. In addition to dry storage, pretty well covered by Chocklett's basic plan (above), the following are a few accessories that are important.
Pump. Not all of the rafts ship with a premium pump. Some of the pumps I have seen come with these boats are almost useless. Unless you have a few kids at your disposal, I highly recommend getting an electric pump or air compressor to inflate the boat when you unpack it. An electric pump is a huge time saver for getting a flaccid boat a head start. After that is done, top it off with a high-quality hand pump such as the K Pump (k-pump.com/) or a premium pump from NRS (nrs.com). Bring the pump, along with a patch and valve kit, along with you on each fishing trip.
Oars. Lightweight, packable oars come with every boat, and for casual users or someone who demands extreme portability, they are fine. Most guides upgrade to something like 8′ or 8 ½' Sawyer SquareTop DyneLite Oars ($375, paddlesandoars.com). These provide more power and responsiveness and comfort and are closer to what they row in their larger drift boats or rafts.
Guide George Daniel considers a shoal cut oar a must on his home waters: "A lot of our streams have narrow chutes and pockets interspersed with shallow water. A shoal cut oar blade allows you to steer or hold the boat in water that is only a few inches deep. With a three-man raft loaded with gear, heavier shafts are very helpful to get the boat to respond the way you need it to."
Keep in mind that you'll also have to swap out the oarlocks on your micro raft to ones that accommodate a 2-inch shaft, though the new FlyCraft Three Man comes with them standard.Stripping Basket. Some boats come with one, some do not. The ones with the baskets high up on the bar in front of the boat aren't all that great for arm motion when stripping streamers, so you might have to come up with an alternative solution for line management, which is always critical in a boat. A simple bucket or basket offers a huge improvement over nothing, and is almost mandatory for the angler in the back in a three-seater. Whenever I leave my basket home, I always wish I had brought it.
Read more: Bears raft
Rod Holders. Whether you rig your own from PVC tubes lashed to the frame, or opt for one of the manufacturers' add-ons, rod holders are a good idea for three reasons: 1. They protect your rods from getting stepped on while getting in and out of the boat, 2. They prevent your line and fly from tangling together as they invariably do if you just pile a few rods on the side frame of the boat, and 3. They keep the rods in the boat in the course of an unwelcome, but likely, quick "oh crap!" maneuver where you bounce off a rock or have to go through low-hanging trees that can grab your gear. To work as planned and keep your rods safe, you have to use them consistently.
Anchors/Anchor System. Unless you are traveling ultralight, having a professional anchor system is a boon and allows you to anchor up on a pod of feeding fish, or stop to rig or net a fish so you don't blow by all that good water. Boats such as FlyCraft and Scadden have anchor systems where the rope runs through the frame to keep the boat as clean and snag-free as possible.
Boats such as the SmithFly have a more conventional anchor system typically found on drift boats. Because these boats are not as heavy as a conventional raft or drift boat, a 20-pound anchor should suffice. Tip: Add another pulley before the anchor to increase the mechanical advantage and make it a piece of cake to pull up—every bit helps on an eight-hour float.
Cleaning Accessories. A Magic Eraser and a good vinyl cleaner and protectant clean the scum off your boat and protect it for a longer life. NRS and West Marine both have Inflatable Boat Cleaner for Hypalon and PVC that works very well. After a thorough cleaning, treat with 303 Aerospace Protectant. When storing a raft for the season, deflate it slightly if keeping it together, and out of the sun. If taking it apart, make sure it is completely dry and roll it up, and also out of harm's way from rodents.
Hitting the Water in a Small Fly-Fishing Raft
These craft offer an excellent entry point into float fishing—a fully accessorized package costs only a fraction of what a full-size raft or drift boat does. Because they allow more people than ever before to hit the water, it is inevitable that these rafts will provide many people with their first experience with boating, as well as boating safety and ramp and river etiquette.
The type of gear you buy is important, but so is how you use it. It is critical to remember to practice boating safety and practice basic maneuvers on gentle water before taking on anything serious. Even if you don't plan on tackling serious whitewater with these boats, it doesn't take much to get into trouble, and small, tight streams with lots of deadfalls and sweepers present their own challenges. Always use caution and follow all safety rules in your state. Make sure to pack PFDs, an air horn or whistle, first-aid kit, and a change of clothes.
Remember to be respectful of other boaters, both on the water and at the ramps. Make sure that you prepare your boat before you are on the ramp so that you don't hold up other anglers who are also eager to get to the water. On the water, don't crowd other boats or try to high-hole another boat (row ahead to beat them to a spot they were clearly drifting to). Give wading anglers ample berth, and try, if possible, to float behind them, not in front where they are fishing.
Many stretches that were once important sanctuaries for fish because they were otherwise inaccessible can now be reached by these rafts. This is a very good thing for you, but do consider the impact on the fishery by not focusing on thermal refuges and not pounding the same stretch of water on consecutive days. The best guides rotate their floats, and you should too.
Flycraft Stealth
While other manufacturers were exploring lightweight pontoons and personal watercraft, this boat really kickstarted the micro raft craze. Owners love this lightweight boat for the ease of transport and maneuverability in tight spaces. The through-the-frame anchor system, rear storage rack, and optional quick-release seats are thoughtful, well-designed features.
New for 2019, FlyCraft is also introducing the Three Man Raft with a self-bailing floor, which has several features that distinguish it from other boats in its class, including drift boat-style leg braces, oarlocks to accommodate larger 2″ oars, run-through-the frame anchor system, and gear rack storage.
Read more: Rafting backpack
The two-man raft shown in the photo belongs to George Daniel, owner of Livin on the Fly (livinonthefly.com). For work he uses the new Three-Man because it maintains a slim profile and maneuverability yet increases the cargo capacity, stability, and option to fish two guided anglers.
12.5′ L x 46″ W, 98 LBS (without oars and basket), non-self-bailing, rigid floor insert, through-the-frame anchor system, Leafield C7 valves. $3,800 (Fisherman Package); $5,000 (3 person); flycraftusa.com.
Scadden Dragonfly XT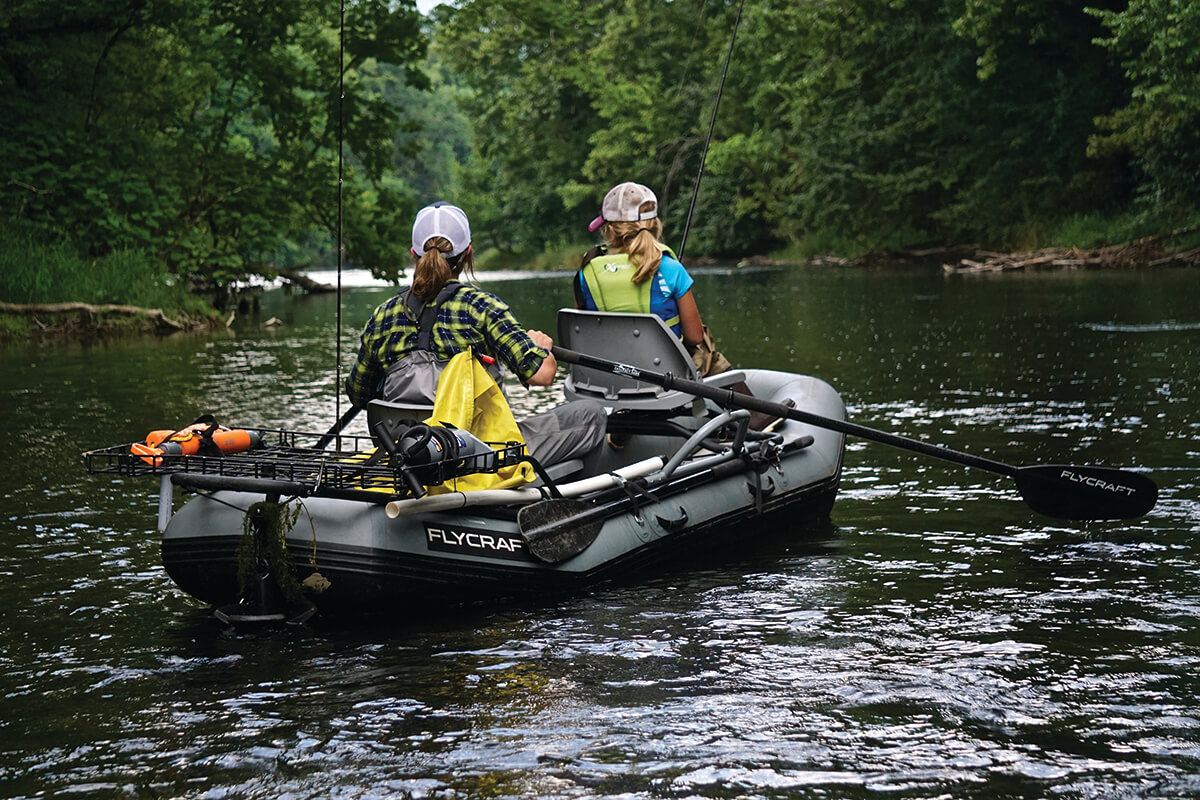 This is a feature-rich river- and lake-fishing machine created by Dave Scadden, a pioneer and evangelist for lightweight fishing craft for almost 30 years. Scadden calls this boat, which has a 1,500-pound capacity for extended trips and a Class V whitewater rating, both a workhorse and a sports car. Key features of this boat are the option to go completely frameless and use the rack-and-pinion oar mounts on the sides for an ultra-lightweight package. Scadden oars have adjustable lengths and an unconventional blade design that, according to Scadden, provides three times the power on each stroke. The Dragonfly series of boats also includes a one-person and a three-person version.
Check out the YouTube video of Mikey Wier and friends tackling some serious whitewater in Northern California with these boats.
10′ L x 54″ W, 100 lbs, self-bailing, through-the-frame anchor system, Bravo Valves; $3,900 (XT – 1 person); $4,800 (XT3 – 3 person); davescaddenpaddlesports.com.
Outcast (OSG) Striker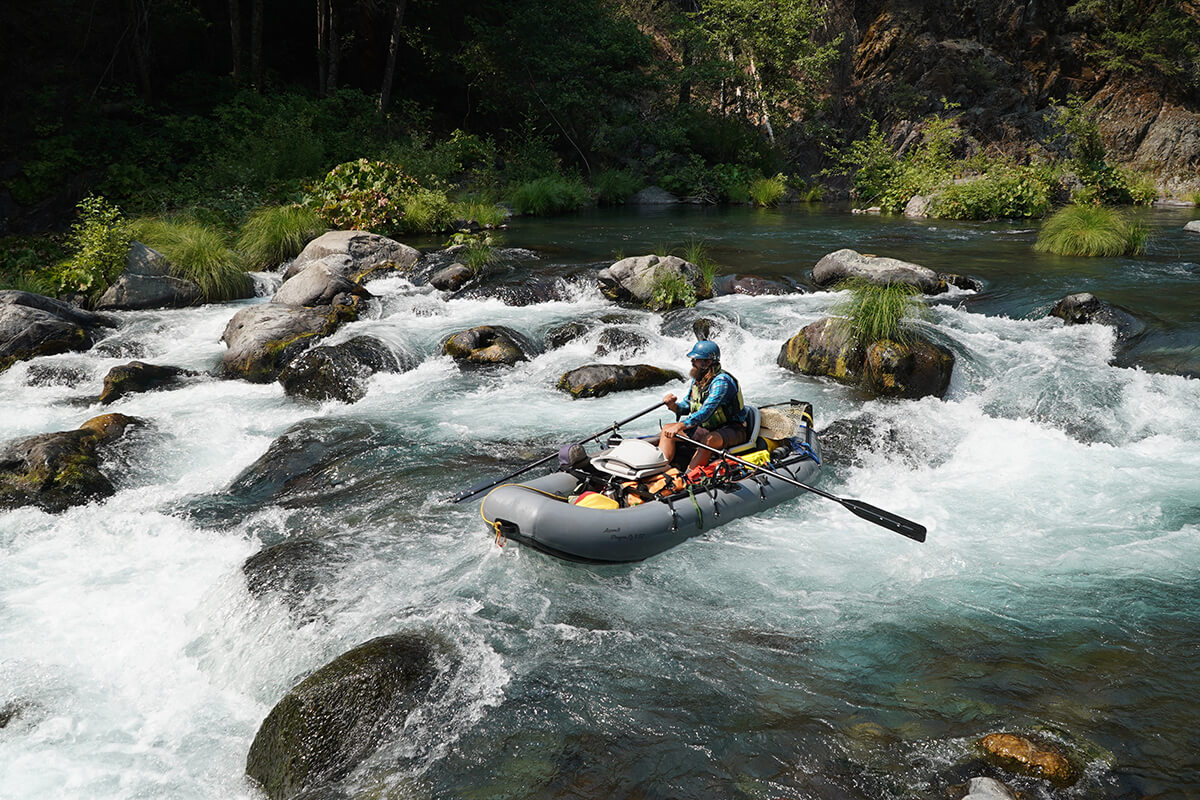 The most compact boat of this bunch, the OSG Striker's minimal frame and removable inflatable lean bar simplify setup so you spend less time tinkering with the boat, and more time fishing. The seats and frames on all of these boats take up considerable space. As with the Scadden boat, you can go almost frameless (using only the oar mounts) for an ultra-lightweight, super packable fishing craft. With this boat, you assemble the frame and slip it into reinforced PVC sleeves on the sides before inflating the boat, after which everything comes tight. Integrated Gear System (IGS) incorporates PVC sleeves with a movable base mount pad that accepts cargo pockets, rod holders, and anchors. This raft doesn't have the removable rigid floor like the others in this article, though the floor has its own valve/chamber and inflates to become firm. According to Outcast's Chris Callanan, "It was intentional to keep the weight at 100 pounds and make it as portable as possible. The bladder inside the floor pocket is oversized so we can get it to full pressure at 2.5 psi so it's very firm."
9.5′ L x 5′ W, 102 lbs, Summit II valves, self-bailing, optional anchor system; $2,500; outcastboats.com.
Smithfly Big Shoals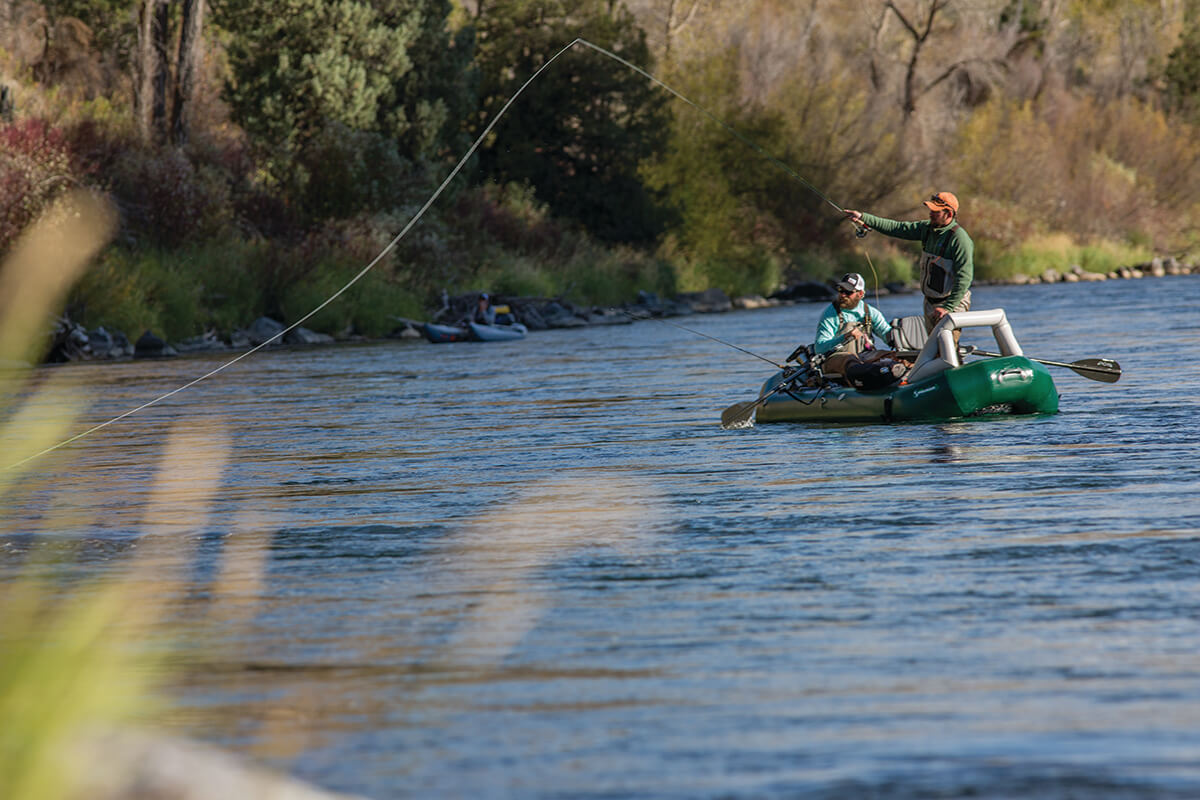 This boat has a one-piece frame, a popular option among guides who want to add a shallow-floating, lightweight craft to their fleet, and don't care as much about portability. According to SmithFly: "We chose durability over portability. That isn't to say that there isn't a place for a portable, packable raft, for some people that is important, but for us the rigid welded aluminum tube frame is paramount." It has an adjustable lean bar in the bow and accommodates two anglers and a rower. Among the attractive things about these boats are the many customizable options, such as coolers instead of seats, flip-up rower's seat, casting platform on the bow, or poling platform at the rear. The removable floor is very firm and has a quilted raised texture. Available in three colors: gray, woodland camo, and digi camo.
The Boat Shown belongs to Joe Koehly of Yeti Coolers. Joe outfitted his SmithFly big shoals with a Yeti Loadout GoBox under the seat, upgraded to Sawyer oars, and added a motor mount.
13'6″ L x 4'6″ W, 125 lbs, self-bailing, Dierks anchor, Summit valves; $4,000; smithfly.com.
Jay Nichols is the Northeast Field Editor for Fly Fisherman, owner of Headwater Books (headwaterbooks.com), and author of Keystone Fly Fishing.